Considering Underfloor heating? You need to read this!
Why Choose a Water Based Underfloor Heating System to Warm up Your Home? 
If you have ever walked barefoot on a cold floor, you'll know how uncomfortable it is, but with an underfloor heating system you could walk barefoot around your home all year round and your feet will be lovely and toasty – even first thing in the morning and when it's freezing cold outside. 
Underfloor heating has become more and more popular due to its space saving benefits, low maintenance costs and the fact it can be used with almost any floor type. 
Wet Underfloor Heating Installation
Wet underfloor heating is a popular system that supplies heat via a series of pipes connected to a boiler via a manifold (a central system allowing all the pipes to work together).  The system circulates warm water throughout the floor to heat your space.  Running at lower water temperatures than radiators, the exact temperature will be determined by the floor you use to cover it but is normally between 27 and 31 degrees. 
As plenty of room is required for the pipe work and cement screed, a Wet Underfloor Heating system is perfect for new floor constructions, renovations, conservatories and extensions.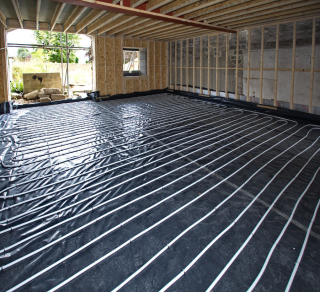 What Type of Boiler is Required? 
Wet Underfloor Heating systems work well with all types of boiler including wood-fired, condensing and vented. It would even work with a heat pump! Please remember, any plumbing work needs to be carried out by a professional. 
So Why Choose it?
Whilst Wet Underfloor Heating is more expensive to install than electric (because you do need a professional to fit it), it is cheap to run and is very low maintenance.  What's more .. it can also connect to renewable energy sources. 
Fancy it?
If you are thinking about having a wet underfloor heating system installed in your property, then look no further than Wayne Watkins Oil Boiler Servicing in Lichfield, he can visit your home and see whether your boiler can support the system and the design and layout of the wet underfloor heating system before giving you a FREE, no obligation quotation.