COMIC aficionados have 'zapped up' a huge collection of Silver Age editions at auction.
Top seller was Lot 520, the September 1963 introduction of The X-Men.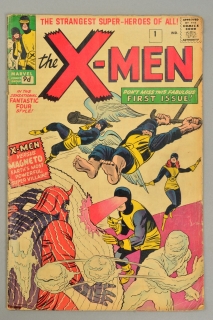 Volume 1 Issue 1 "X-Men Versus Magneto Earth's Most Powerful Villain!!" features the first appearances of Angel, Jean Grey, Beast, Cyclops, Iceman, Professor X and Magneto.
It sold for £1,600.
Second was Lot 195, Daredevil's first appearance in April 1964. Volume 1 Issue 1 "Here Comes Daredevil The Man Without Fear!" sold for £540.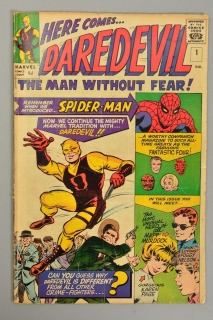 Lot 200, Marvel's Fantastic Four Volume 1 Issue 4, "The Coming Of The Sub-Mariner!" from May 1962 made £500.
And Lot 344, The Amazing Spiderman Volume 1 Issue 14 "The Green Goblin!" marking the first appearance of the Green Goblin in July 1964, fetched £380.
Auctioneer Richard Winterton said: "The collection as a whole did really well. But when you get to the top lots the prices are remarkable – even now it still surprises me that someone will pay £1,600 for a comic."
The collection was built up by Reginald Clay, a driver from Blurton, Stoke-on-Trent, who started buying comics at the age of 10.
He later stored the haul in a special cupboard in his loft – and only told relatives of his treasured copy of the very first X-Men comic from September 1963.
Fifty-five years after The X-Men were introduced, Mr Clay had taken early retirement. But less than 12 months in he was diagnosed with cancer and died in March 2019 aged 65.
Before he passed away, Mr Clay asked his daughter and son-in-law to sell his comics but they had no idea of the scope of the collection.
"We had no idea he had so many," said Mr Clay's son-in-law, who has asked not to be identified.
"They were stored in a special cupboard in his loft and we didn't expect to see so many.
"He had mentioned to us that he had the first edition of the X-Men but that was all."
A huge amount of titles in the collection dated from the 1960s – the highly collectable Silver Age of comic books – and featured iconic characters including Superman, Spider-Man, Batman, Wonder Woman, The X-Men, The Flash, Iron Man, The Avengers, The Fantastic Four, Green Lantern, Thor, Metamorpho, The Justice League of America, Daredevil and Captain America.
The Silver Age, which ran until around 1970, is commonly regarded to have begun with a new version of DC Comics' The Flash in October 1956.
Reacting to popular demand, DC published more superhero titles including Justice League of America – prompting Marvel to introduce The Fantastic Four followed by other now-iconic characters such as Spider-Man, The X-Men and the Hulk.
Important artists and writers who contributed to the Silver Age include Stan Lee, Steve Ditko, Gardner Fox, Jack Kirby, Robert Kanigher, John Broome, Gil Kane and Curt Swan.
 Richard Winterton Auctioneers' next batch of comics going to auction will feature in The Library Sale at The Lichfield Auction Centre, Wood End Lane, Fradley Park, on Tuesday, September 24, starting at noon. Viewing is on Saturday, September 21, from 9.30am until noon; Monday, September 23, from 9am-4pm and on the morning of sale from 8.30am. A further online-only comics sale focussing on another large collection is planned for later in the year.