Christmas at Lichfield Garden Centre
Lichfield Garden Centre are going all out to make this Christmas an unforgettable one.
From being the go-to place in Lichfield to buy your Christmas tree to offering shoppers festive treats to enjoy while you do your Christmas shopping, Lichfield Garden Centre is definitely a place to visit this festive season.
Christmas Trees are now Available!
Their range of trees have now arrived, freshly cut from the mountains of Mid Wales.
Over 600 of them are ready for the people of Lichfield & beyond to come and choose, ready to take pride of place in the lounge of your house for December!
Buy early for the best selection, they will keep your tree outdoors until you are ready.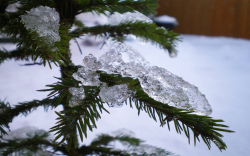 Extra trees have been purchased this year, so the choice is even greater. As usual the friendly team of staff and family helpers have been drafted in to help you pick your perfect tree.
All trees are netted for easy transport, and if your car is too full of Christmas gifts, they can deliver too!
Mulled Wine and Mince Pie Weekends
For many years now, Lichfield Garden Centre have offered all their customers a complimentary glass of home-brewed (secret recipe) mulled wine and a Mabel's Mince Pie, and 2016 is no different.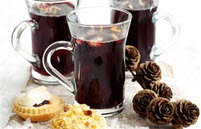 Pay them a visit this weekend (26/27th Nov), or later in December - 3rd/4th and 10th/11th and get in the Christmas spirit whilst you shop!
In 2015, their hungry customers munched their way through nearly 400 Mince Pies and GALLONS of Mulled Wine!
Christmas Gift Ideas
Brilliantly crafted in glass and metal, light up your borders with these solar Poppies, Tulips and Snowdrops from Smart Garden Products.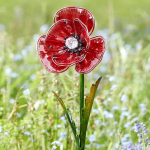 Priced from £16.99, these make an ideal gift - stocks are limited so don't delay!
Also new this winter are these Eureka! Light Bulbs.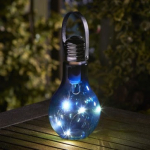 Crafted from strong glass, these are battery operated and come in 3 colours - Pink, Blue (in picture), and Smoke effect.
No wires, no fuss - these come with a timer to give 4 hours on / 18 hours off. Hang in your trees or bushes, or stand them on your patio table. At only £3.99 each, they are an ideal gift this Christmas!
Christmas Fairy Garden Ideas
The popular Miniature World fairy gardens have been a success this year, and for Christmas you can now create a Festive Fairy Garden with the Candy Elf House (£22.99), and the Gingerbread House (£32.99).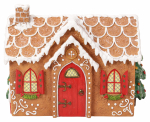 They also have Festive Characters to add to the display (£4.99). Stocks are limited so be quick!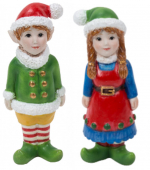 Christmas Wreaths & Festive Flowers
Their wreath-making production line will shortly be in full swing, with Jennie and Nicky creating some fabulous door wreaths, garlands, crosses and natural table decorations.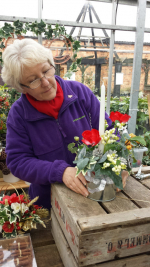 Please place your order as soon as possible, as stocks of natural materials are limited. Orders can be collected right up to Christmas Eve so you have the freshest decorations possible.
Christmas Flowering Houseplants such as Poinsettia, Cyclamen, Hyacinths are more are all available this month.
They will also have a large range of planted arrangements for indoors which make ideal gifts for gardeners.
Check out their range of Waxed Amaryllis - these need no food, water, or compost to grow - the ultimate gift for the non-gardener! (Available from early December.)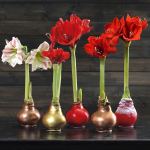 For all of your Christmas needs, visit Lichfield Garden Centre this December!