Choosing the Right Removal Company for You
Look at your Options:
There are a lot of options available, from a man and his van to a well-established removals company. What you've always got to bare in mind is that whoever you choose to go with is going to be in charge of looking after your possessions. That's a big responsibility not only for them but for you too – leaving your treasured belongings in the hands of someone else is a scary thought. However, if you make the right choice then your mind will be at ease and your items will be transported safely and securely.
Ask them Questions:
If you've found the ideal removal company and are confident that they are the ideal choice, then well done! However, a little more investigation might be needed. Find out as much as you can by simply asking questions. Unless they've got something to hide, most companies will be more than happy to answer any questions you may throw at them.
Questions to consider asking are:
How will the move be carried out? – This covers how long it will take to make the move, the time of arrival, what vehicles will be used, how many people will be working on the job and more.
How far will you travel? – Some companies are fortunate enough to have the facilities to make international travels. However, that might not always be required. Smaller and local firms are more ideal for when you don't have too much to shift and not much distance to cover. You just need to figure out which one is the more ideal choice.
How safe will your items be? – The reason you want a removals company in the first place is to get your items from point A to point B safely, right? But if the company you choose to go with doesn't have very secure facilities, then there's that risk, and that risk is definitely not worth taking. This is usually the case with cheaper options.
While yes, you are getting what some would consider a 'bargain', but chances are that bargain comes at a price – that being the safety of your items. Don't be tempted to go with the obscenely cheap option which also happens to be the highest risk factor.
Here in Lichfield, we have an excellent removal company – Franklins Removals.
A family run business that has been going since 1985, Franklins Removals specialise in household and commercial removal services.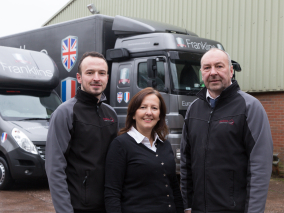 Whether you're moving locally, nationally or internationally, Franklins will provide you with a top quality, professional and efficient service that won't be matched. They will help make your move as stress-free as possible, assuring you that your possessions are in safe hands.
Franklins Removals even go the extra mile, offering storage solutions for before, during or after the move. Their storage units are completely secure and safe, so you won't have to worry about anything happening.
For a removals company in Lichfield that makes every effort to ensure that your experience is as easy and straightforward as possible, call Franklins Removals today on 01543 406129.