Check Out the Exciting Programme for this Years' Lichfield Literature Festival
An offshoot of the annual summer multi-arts festival, the Lichfield Festival, Lichfield's Literature Festival is a celebration of the written and spoken word.
From 1st March – 5th March 2017, Lichfield will become all about the world of literature; playing host to celebrated authors nationally and internationally.
From children's books to award-winning novelists, cutting edge science to new writing, free workshops to writer's retreats, you will find something here to inspire you!   
Appropriately, 2017 marks the 20th anniversary of World Book Day, which coincides with the Lichfield Literature Festival.
On 2nd March, everyone is invited to join in the Big Festival Book Bash. Taking place after school hours, why not come along in your World Book Day fancy dress and join in the costume parade!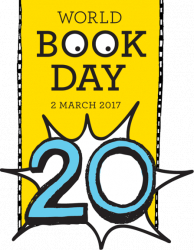 Enjoy games and activities around your favourite books from The Gruffalo to Harry Potter, Tracy Beaker to the Big Hungry Caterpillar, plus a visit from the Enchanted Princess. There are even prizes to be won!
If you're looking for a costume for the occasion, visit Lichfield Costume Hire. They have lots of costumes of everyone's favourite literature characters in store.

On the night, you can put your knowledge to the test with  The World Book Day Festival Quiz . From potboilers to literary classics, non-fiction facts to sci-fi fantasy, Winnie the Pooh to Wilfred Owen, let the Festival Quizmaster put your team through their paces.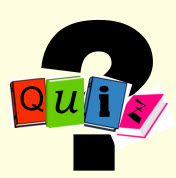 Join in Lichfield's first ever Festival Paper Fair on 4th March - celebrating everything to do with books, reading, writing, crafts and more!
Throughout the day there will be stalls featuring free activities, information stands from organisations across the region, craft sellers, free author talks and readings and the ever popular Festival Book Swap, there is guaranteed to be something for everyone.
Grab your dancing shoes and get set for a Route 66 road trip - it's Festival Party time! 
Join in the fun with an evening of food and entertainment as celebrations for the 10th anniversary of the Lichfield Literature Festival with the  Route 66 Festival - Summer Festival Launch Event.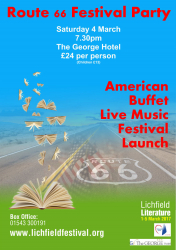 Be among the first to hear all about the exciting events lined up for the upcoming Lichfield Festival with the chance to win tickets to the headline events throughout the evening.
Throughout the festival, Emporium Art Gallery will be showcasing The Art of Literature Exhibition. From 28th February - 11th March, this exhibition celebrates literature in art form.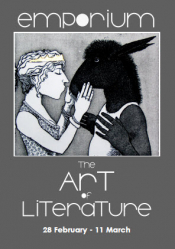 To see the full programme of events, check out our Events Page.
Tickets start from just £1 and can be purchased online at www.lichfieldfestival.org, by telephone on 01543 300191 or in person at Donegal House, Lichfield.
Box Office is open 10am - 4pm, Monday - Friday online booking available 24/7.