Charity auction in aid of Staffordshire centre for children with special needs
It's in aid of the Peter Pan Centre, the only children's charity in the region which provides specialist play and development sessions to children with special needs aged from birth to five years old whilst providing families with vital respite.
The unique centre, in Hoon Avenue, Newcastle under Lyme, supports families from across Staffordshire, Stoke-on-Trent and Cheshire and relies entirely on donations as there is no statutory funding provision.
Now more than a dozen of David Dickinson's Real Dealers have got together to donate lots for a special auction helmed by Richard Winterton – himself a regular on Dickinson's Real Deal.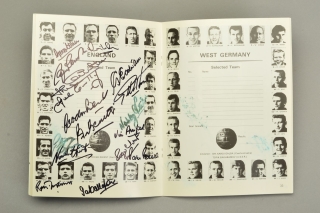 Items going under the hammer include a 1966 World Cup Final programme reprint signed by seventeen of the England players in that winning squad, a signed watercolour by Jim Moir aka comedian Vic Reeves and a gilt metal Queen Victoria jubilee sheet music folder.
The dealers who donated items are: Tim Hogarth, James Layte, Fay Rutter, Stewart Hofgartner, Michael Hogben, Mark Stevens, Jan Keyne, Jo Brayshaw, Alistair Lamont, Henry Nicholls, Karen Dalmeny, Alison Chapman and Tony Geering.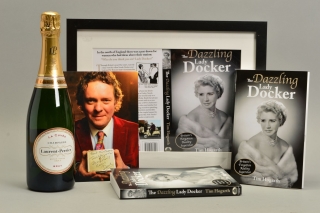 One of the lots is two signed copies of Mr Hogarth's book The Dazzling Lady Docker, Britain's Forgotten Reality Superstar, one with misprints, together with a framed cover of the work and a bottle of Laurent-Perrier Champagne.
Other lots include an 18th century engraving, a 19th century tortoiseshell card case, two signed limited edition prints, a set of Sheffield spoons, an agate bracelet and four diamond rings.
The auction has been organised by Mark Maidment in connection with his lifelong friend John Miller, a producer for the hit ITV show.
Mark, who ongoing endeavours for charity have raised £3,000 for good causes, said: "The Peter Pan Centre is an amazing place – it is the only such organisation in Staffordshire and needs donations to stay open.
"The dealers have been really kind and we are so grateful for everyone's help."
Peter Pan Centre fundraiser Catherine Cook said: "The children, families and staff of the Peter Pan Centre cannot thank Mark, Richard and the Real Dealers enough for their incredible generosity and for helping to give children with special needs the very best start in life.
"We are especially delighted that they have chosen to lend their support to our children and families as we approach the 50th anniversary of the charity in December; what a wonderful way to celebrate our big birthday in style!"
Auctioneer Mr Winterton has waived all commission on the items.
"It's great that ITV Real Dealers have donated so many items to be sold off to benefit such a worthy cause," he added.
Lots can be viewed at the Lichfield Auction Centre on Monday and Tuesday September 23-24 9am-4pm and from 8.30am on the morning of sale.
About The Peter Pan Centre
We are a children's charity based in Staffordshire supporting children with special needs aged birth to five from all across Stoke-on-Trent, Staffordshire and Cheshire.
As a charity providing specialist care to children with special needs, we are unique in this region – no other service offers the help we do to children under five, or provides the support their families need.
There is no statutory provision for this service and we must raise all of our funding, which is why the support of our parents and local communities is so important to us.
Our aim is to support and help our children's development on a physical, emotional and educational level, encouraging them to achieve the best they possibly can. From building confidence to socialising with peers to taking steps unaided and developing communication, every child has different abilities and needs and is encouraged at every stage by our caring and dedicated team.
We help our children to build the confidence, independence and skills they need to help them start school – mainstream or special education – and provide all the help they need to make this transition as smooth and successful as possible. 
The Peter Pan Centre for Children with Special Needs, Hoon Avenue, Newcastle under Lyme, Staffordshire, ST5 9NY. Telephone 01782 715219.