Award winning local artisan baker pulls out all the stops to help her customers
In early 2020 we were recognised as one of the best business in Lichfield. Thank you once again for all your wonderful reviews and votes.
On the same day in early January we were proud to pick up both a #wow and #queenof Twitter award, followed very quickly with a #smartsocial.
Finally, we were recognised by Theo Paphitis as a Small Business Sunday winner #sbs and had the great pleasure of meeting Theo a week later.  He presented me with my certificate, and I presented him with one of our fresh baked Rosemary, Stilton and Onion loaves.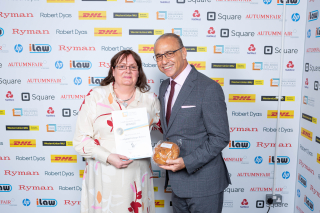 Like many small businesses we started the new year with a new venture – our exciting Bread Subscription Boxes. These, like our home baking courses, have proven very popular, with bookings for bread courses being taken until late in the year. And then . . . lockdown. 
Of course, I've had to rearrange all current bookings. If you haven't yet arranged your baking course, please contact me to discuss the options. 
Lockdown has had a huge impact on all of us, personally and in our businesses. 
Subscription boxes however, have just taken off. A fresh baked treat every month is just what we all need right now – have you signed up for one yet?
Hunnypot Cottage Bakery has seen a huge increase in custom orders by individual customers which we can post directly to those in self isolation around the country. We do deliver directly to vulnerable local customers as well. As a result of the demand, we have had to put a cut off day in place to ensure we can keep up.
Ruth also runs Mercia Food Hub, a weekly online farmers market, supplying local produce from farmers and small businesses. By the 2nd week of lockdown we saw an increase of over 900% in orders. Wow – that was a learning curve.  
We have welcomed a number of new providers into the market, and can now offer milk, a wider variety of meat direct from the butcher, plants and even flour – many of the ingredients that have been hard to find in supermarkets. We also have more savoury treats, cakes and soap, and will have more suppliers joining us in the next few weeks. 
So, if you haven't signed up to the Mercia Food Hub and checked out the fresh local produce we deliver to your town yet – what are you waiting for?
On Thursdays, as I deliver orders from the food hub, I am often working 14-16 hour days. What I have seen – and it's been very interesting – is the impact these times are having on my own and other small businesses. In the first few weeks there was a rush on baking ingredients by home bakers – and as a result I ran low on some essentials. Luckily my fabulous customers came to my aid, acting as my eyes in the various retailers around the area. If you are a home baker, and enjoying yourself, why not consider carrying it on and joining your local country market? We're always looking for tasty new treats. 
During this lockdown please continue to support your small local independent businesses. As we are adapting to help bring you food and essential services , it's your support that helps us survive.  
Many of us won't qualify for government grants, but you can help by thinking about businesses you would normally be using; maybe prepay for your next hairdressers appointment or choose a gift voucher for a course as a present.
Most importantly observe social distancing and stay safe.

Thank you, from us, for all of your support. 
#BuyLocal #supportlichfieldbusinesses