Get Fruity
Fruit Trees are due into us mid September.
They use Frank Matthews Nurseries, based in Worcestershire (the heart of fruit growing), and have a selection of Apples, Pears & Cherries coming in to give you juicy crops in just a couple of years.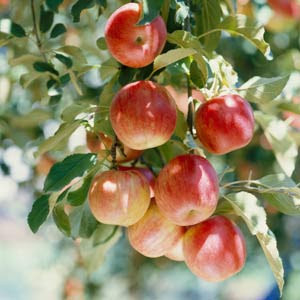 For smaller gardens, many of their varieties are on a dwarf root system (or rootstock), meaning they won't grow much more than 10-12 ft - in some cases only reaching 6ft.
We also have a limited number of 'Family' apple trees coming in. These have 3 Varieties on one tree! This means you only need one tree as each stem will cross pollinate the others. Great for those with limited space.
With each fruit tree purchase, make sure you get a free copy of Frank Matthews Fruit Tree growing handbook - just ask a member of staff for your copy.
Border Patrol...
September is a good time to tidy up your perennial borders - lots of plants will have become untidy and straggly over the last few months.

Chop them back and take out any old flower stems - in the next month or two, these can be cut down to ground level ready for the winter.

Now's also a good time to apply a feed - try Chicken Manure or a powdered feed like Fish Blood & Bonemeal to strengthen your plants for next year.
September Top Tip
Feed acid loving plants like Camellia, Azalea, & Rhododendrons with Sequestered Iron and keep them well watered this month.

They all start to form buds in September for the following spring, and if they dry out or go hungry now, the flowers will not form correctly and may fall prematurely.