Fans of classic rock and pop are advised not to Take it Easy when getting tickets to see The West Coast Eagles when they make a welcome return to Lichfield Guildhall.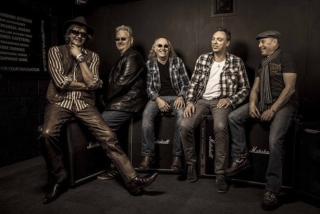 Blending some of the smoothest vocal harmonies heard in rock, strong song-writing skills, tough, no nonsense musicianship across many different genres, and radio-friendly production, the Eagles music became synonymous with the late 1970's and 1980's, whilst the album Hotel California has become one of the biggest selling albums of all time. The five piece The West Coast Eagles take particular care with the music, they have the same love of live performance and stage-craft as the original band, but with none of the excess, or the infighting that made the Eagles as much of a soap opera as a live music proposition. Life in the Fast Lane will never seem the same again.
The concert is on Friday April 19th with tickets costing £13.00.
The following night will see the return of Peter Knight's Gigspanner Known for his work with Steeleye Span, Feast of Fiddles, and a number of other projects, Peter Knight blends his own open-minded approach to modern technology, with a deep understanding and love for the tradition, to bring new life to older tunes, and his own compositions, which range across the genres of folk, celtic, traditional, rock, and more modern, ambient sounds. Peter received 'Best Musician' in the inaugural folking.com Awards in 2016 and their 2015 album Layers of Ages featured on Album of the Year listings for The Telegraph, R2 magazine and BBC Radio. Peter is joined by Roger Flack on guitar and Vincent Salzfaas on Percussion, both of whom are powerful and intelligent musicians in their own right.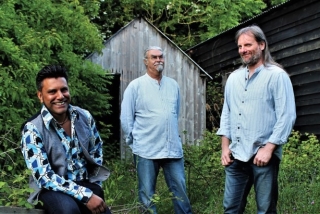 Tickets for what promises to be an unmissable and unique evening are £16.00.
Closing Lichfield Arts Spring 2019 season will be the ever-popular King Pleasure and the Biscuit Boys on Sunday April 21st. "The hardest act to follow since the parting of The Red Sea" – Paul Jones, BBC Radio 2 Rough, tough and always rocking, the legendary King Pleasure and The Biscuit Boys' zany stage show sometimes belies the fact that here is the finest, most authentic rhythm & blues band ever to come from outside the USA. As anyone who has followed their astonishing career knows, the band carries a guarantee of great swinging music and high entertainment value. Great to have them back at the Guild Hall where they fit like a glove! Tickets are £15.00 A Lichfield Arts Spokesman said 'This is a weekend that is packed with high quality music and a good time is promised. If you have never been to one of our concerts, or have been one of our many loyal customers, we have something to suit all tastes.
All three concerts are proving to be popular, so we suggest buying your tickets soon to avoid disappointment. Tickets and further details are available from www.lichfieldarts.org.uk, phoning (01543) 262223, or calling into the Lichfield Arts Box Office in Donegal House.