5 Questions to ask your Estate Agent in Lichfield
You've only go to take a drive around Lichfield to be bombarded with estate agents boards, so which one will work for you.
Selling your house is one of the most stressful things you can do, choosing the right agent will go a long way towards helping you through the experience.
What's important for you?
It will depend on your circumstances obviously, you may need a quick sale as you are re-locating for work, you maybe downsizing and in no rush or you may want a larger home as your family increases.
Speak to friends or family members who have had experience of selling a property within the past two years, not twenty years ago, staff or management will have changed and you can't guarantee the same level of service. Check out their reviews online a reputable agent won't hide them!
There are hundreds of questions you can ask but the one question an agent will always ask you if you have seen a property for sale that you like and make an enquiry is 'have you sold your house?'
They will always tell you that you are in a better position for negotiation if you have (which is partly true,) but of course they will also want to list your property so they can then have two sales instead of one! Do not be persuaded to go with the first agent until you have checked out other agents in the area. 
You maybe selling a flat to move to a family home, the agent you rang is experienced in selling family style homes with buyers available in that category but hasn't got a clue about selling one bedroomed flats. If they then market your property it may take a few weeks to receive any enquiries whereas if you chose an agent who is vastly experienced in selling flats they will have existing prospective buyers already on their books ready to ring the minute you sign up with them!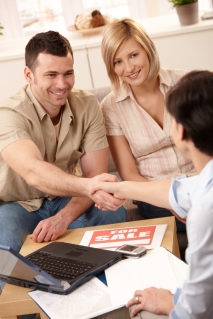 Buying a house is the most expensive purchase most families will make, but of course it's not just bricks and mortar it's your future and family home, emotions will come into play, by being prepared you can spare yourselves stress and heartache along the way.
What do I know I hear you asking, well if I told you we have just purchased our 18th property in 40 years and lived in all of them not brought to sell, I've definitely experienced a wide range of estate agents in my time.
Last year during lockdown when we saw a property we fell in love with (I won't lie,) we chose an agent who we felt would work with us to sell our property as quickly as possible to enable us to make an offer on the property we'd seen.
We compiled a list of questions to ask several agents and our top 5 I've listed below with the reasons behind them.
How many similar properties have you sold and what prices did they sell for?
Did they sell them for the asking price (which means they gave you the correct valuation in the first place.)
How long did they take to sell?
Are they just listing property after property with no thought to how it is presented. Are the photos up to date is there a video available? Are they advising the sellers of certain aspects of the property that could be letting it down and preventing it from selling quickly?
A property priced correctly with the correct agent should sell within a month (if the market is as buoyant as it's been!)
Where will you advertise my property?
Are they using social media? Are they listing on the popular Zoopla or RightMove? Or relying on the outdated photo in the window?
Will you accompany buyers on all the viewings?
Estate agents will charge less if they don't join you to visit a property so some sellers choose this option. We did our due diligence and went to view other properties to make sure we had made the right decision and several of them were unaccompanied viewings. To be honest we felt uncomfortable going into someone's home we didn't know. We felt they wanted an answer straight away and we were put in an awkward position if we didn't particularly like any features that they were proud of. By having the agent accompany the sellers the buyer is removed from the conversation.
How will you follow up with prospective buyers after they've viewed the property?
If the agent is with them when they've viewed a property they will certainly get the buying signals and can answer any questions or queries immediately making for a quicker sale in the long run.
Choosing the right agent is as important as choosing the location to ensure you have a good experience and to make it as stress free as possible.
With last week's budget announcement the Stamp Duty Levy Tax 0% band was temporarily increased to £500,000 in 2020. The Chancellor confirmed that this would be extended to the end of June 2021. After this, the band will fall to £250,000, before returning to its standard level of £125,000 from 1 October 2021.
The government will also provide mortgage guarantees for homebuyers. This will not be limited to first-time buyers but will not be able to be used for second homes or buy-to-let properties. It will have a maximum purchase value of £600,000. This intended to encourage lenders to return to offering mortgages to lenders with low deposits. The scheme will open in April 2021 and run to the end of 2022 (though the government will review whether an extension is appropriate).
Being extended there is no better time to try and buy the home of your dreams, but remember buyer beware.
Happy house hunting! Watch the video below to see what you could be getting for your money.