Why reviews are important in helping a customer chose your business
Marketing can be defined as the action or business of promoting and selling products or services, including market research and advertising.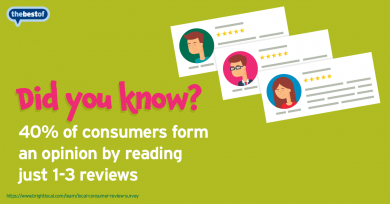 Essentially marketing is taking goods or services to the market place so that a business can say; what is on offer, at a price that is statistically workable, at the right time.
The use of a website in marketing makes a great deal of sense. A thoroughly professionally produced website should sell your products or services for you, it will reach the parts that no other marketing strategy can reach.
The key is in the word strategy.  You see a high-street shop will know if the window displays are working or not and if the products are not selling they can change the window display, similarly the services industry will quickly know if their marketing is not working.
For nearly all businesses a very simple and sensible strategy is to feature customer feedback in the form of independent customer reviews which are the most effective feedback available. Reviews have the advantage for the seller of being spontaneous, and in real time for the most part. The strategy is right if one has an up-to-date website that is managed and efficiently run. The reviews need to be read, daily!
Strategically, by maintaining a close eye on the reviews the seller has the most up to date and meaningful feedback available, and can respond to the feedback and more so can make careful use of the information to tweak the marketing operation as fine tuning, keeping one's finger on the pulse may avoid having to completely change strategy.
The ability to adapt is the ability to survive in business, as it is in life, as circumstances change the ability to go with the flow can mean the difference between survival or not.
Business marketing strategy is a precious tool, it can be the most effective and cost effective tool in the locker. Having an amateur website is like driving an old banger, you know it will let you down one day, at the most inopportune moment!
Professionals do not take risks, they employ state of the art websites with fast response reviewing functions, professional business people similarly use the data to fine tune their success.
If your ready to step up your marketing efforts in 2017 please get in touch with The Best Of Leicester for a free consultation.  Our web development partners it'seeze Leicester are also on hand to talk to you about how a new website can transform your business.