Last minute Valentines Gift Ideas in Leicester
Valentine's Day is based on fact, St Valentine did exist, he went against the Roman rulers of his day by marrying people against Roman law. He eventually paid the ultimate price and when he came unstuck he wrote to his sweetheart saying 'I am Your Valentine'. That is why to this day we send Valentines cards to those that we love. 
St Valentine's Day falls on Tuesday 14th February, and as we move toward Spring there are lots of options open to us to enjoy and proclaim our love.
Listed below are our favourites that are always worthy of consideration:
First to make this list of highly recommended things to do this Valentines is a meal at The Boot Room (a Michelin Guide recommended restaurant no less).  Always special The Boot Room has a sumptuous menu designed to give Valentines Diners an occasion to remember. Discerning people wishing to enjoy a special meal on Valentine's Day or the week end before or after should book right away to avoid disappointment.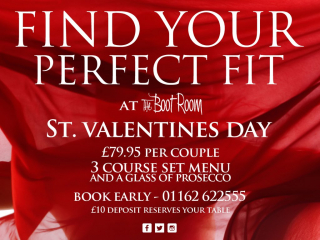 Okay moving on how about making your very own chocolate, at Cocoa Amore? attend their workshops, where you will learn about the incredible story of Chocolate, its Health Benefits and have 'hands on' experience of making gorgeous chocolates. Cocoa Amore Chocolate Making Workshops are captivating, insightful and fun, all of which, will help to elevate your enjoyment of chocolate. This is a must for the chocoholics amongst us.
Not a chocoholic?  No problem... How about taking in a show at The Curve Theatre? there is an exciting programme of shows throughout the year, mid-February has much to offer including: Shirley and Shirley: Not Just a One Night Stand, An Interview with Romesh Ranganathan, The Sitcom Experience: Basil & Co, The Sitcom Experience: Basil & Queenie - A laugh a minute guaranteed.
Or what about the The Y Theatre which is a bustling live performance venue based in Leicester City Centre. Their eclectic programme includes music, comedy, theatre, dance and spoken word. The 300-seat theatre also comfortably hosts candle-lit cabaret style events and standing gigs. Built in 1900, The Y is the oldest surviving theatre in Leicester. Featuring Mr B the Gentleman Rhymer's Dandy Valentine on the big day itself, 14th Feb.
How about the Leicester Comedy Festival, the official comedy party for the UK!  Their 2017 Festival will take place from 8-26 February and the full line up can be found on their website. There are over 800 events across the 19 days and tickets are now on sale so hurry and plan your festival visit for a fabulous comedy experience.
And finally if you want to escape from the dull and damp British weather altogether then why not jet off for a last minute romantic break in the sun with our friends at Millington Travel. Millington Travel have plenty of valentines deals to ensure February 2017 is hot hot hot!  
Happy St Valentines to all.
Much Love
The Best Of Leicester x