Café 96 Degrees, more than just a coffee shop
Owner Ed and his select team are passionate about all things coffee and go to great lengths to ensure that theirs is the finest coffee in Leicester bar none.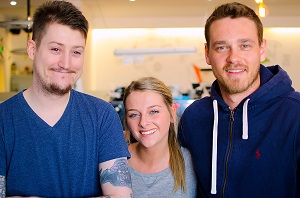 Ninety Six Degrees is the ideal place for a quite coffee with friends, an afternoon with a loved one away from the madding crowd, or a bite to eat at lunchtime, the team have a many tasty treats to offer.
Using the finest locally sourced produce where possible and top quality coffee the focus is on quality rather than quantity
Because Ninety Six Degrees is an independent speciality Coffee House the management are able to maintain excellence throughout.
Typical of Ninety Six Degrees their range of alternatives is very attractive and flavoursome and supercharged with natural high value alternatives. Their range of smoothies has to be seen to be believed, better still they have to be tried to be enjoyed, once you have tried them you will be back for more.
The team are innovative, spotting an opportunity to create refreshing alternatives to coffee that are fresh to the taste, caffeine free, natural fruit products that include delicious fruit flavours, plus yoghurt, milk and honey, and seriously healthy and fresh to the taste green tea. Wonderful detox as well as easy on the palette.
There is more! 96 Degrees have extended their range of drinks to include Pegasus Protein Smoothies and Recovery Mocktails.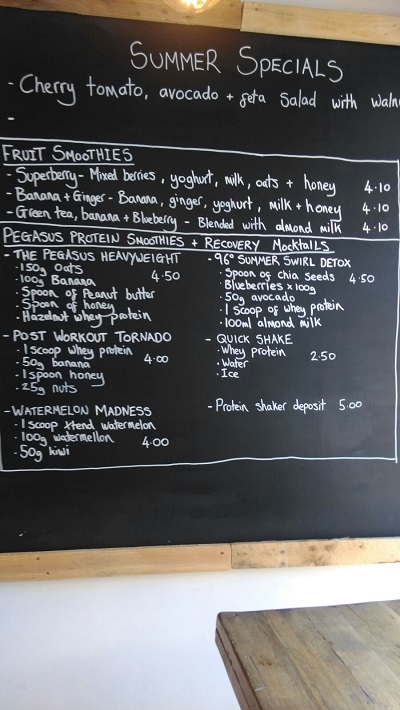 The Pegasus Heavyweight, includes 150 g Oats, 100g Banana, a spoon of Peanut Butter, a spoon of Honey and is finished off with Hazelnut Whey Protein. This should produce enough energy to fuel a marathon attempt.
Post Workout Tornado, has a scoop of Whey Protein, 50g banana, one spoon of Honey, and 25g Nuts. Designed to replenish energy levels after the event.
Watermelon Madness, has the fresh taste of a scoop of xtend Watermelon, 100g Watermelon, plus 50g Kiwi.
The Recovery Mocktails include some exotically tasty detox specials.
96 Degrees Swirl Detox, a spoon of Chia seeds, 100g Blueberries, 50g Avocado, a scoop of Whey Protein, and 100 mil Almond Milk. Rich, natural, fresh and tasty, as a way to replenish the body and feed the soul this is heaven in a glass.
Quick Shake includes Whey Protein, Water, and Ice, a fresh clean treat on any day but on a hot day it is cool in every sense.
96 Degrees Coffee Shop is renowned in the City for its fine coffees and excellent foods. This venue for the discerning folk of our busy City Centre is an absolute delight to pleasure the taste buds, refresh the hard pressed body and deliver peace of mind through its health-giving natural alternatives.
For more information about this wonderful great coffees shop click here