Top Tips to help local Kettering businesses number 16 to 20..
Top Tip #16 – Offers

There's a "super-secret code" for unlocking new sales opportunities and introducing yourself to new buyers. I say "super secret" because so many companies fail to use it effectively. And many others don't use it at all.
I'm talking about OFFERS.
Some businesses don't want to make offers. They think doing so will undervalue their product or company. To those headstrong owners, let me ask this: How much value will your product have to someone who never buys it? Someone who never takes a leap and becomes your customer at all?
Think of offers like this. They remove the barrier to entry in working with you. They make it easier for a buyer to give your business a try.
Use offers to get them on your website, on the phone, or in your door for the first time.
Then use offers to keep them as loyal customers.
And if they ever do cease being loyal, use an offer to incentivise them back into the fold.
Can you see how offers can and should be used in your sales process to make more sales, keep more customers and make more money?

Instant motivation
Customers need a good reason to buy from you. And, like it or not, the quality of your product alone isn't enough. Offers are one of the most useful marketing vehicles of all to create real, honest sales. But it gets better. Offers motivate buyers immediately and drive sales quickly.
Marketing is most powerful when it motivates the customer to take some form of action — now! The motivation has to be something they care about. It has to be something of value they get for free or that saves them considerable money. NOT "10% OFF"! – It will barely register, and you'll attract the wrong type of customers.

Besides coupons and price reductions, you can offer entry into a high value prize draw like an iPad or a new product or service you're launching..
The ideas for offers are endless. You have to make the buyer care about the offer.
Offers for referrals
Apply offers to customers who refer you! This is a wonderful way to say "thank you," and it's ROI for you. After all, you can use more referrals, can't you?
Always be thinking of reasons for people to give you referrals. Offer discounts for qualified referrals, entries into a prize draw, "thank you" gifts and more. This helps build good will with the customer and keeps you where you always need to be - right in front of them.
If selling is important to you, then offers should be too. Use offers that your customers will care about, effectively and frequently, and they will pay off in big ways.
And if you need help thinking of a good offer, then give us a call and we'll brainstorm some ideas with you.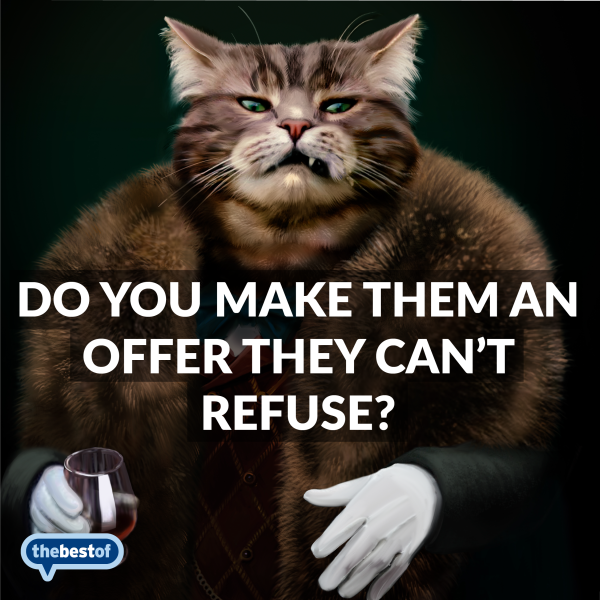 Top Tip #17 – Awards

It's no secret, we get around….the local area of Kettering visiting business and meeting their owners.
What I often see is a great business doing great things and delivering great service to their customers but one thing I've noticed is that too many are, what we like to call "typically British".
They don't like to, or feel like they don't deserve to, shout about their success and achievements. What we wish we saw more of is the amount of awards/trophies in reception areas.

The reason why this should be of interest to you is because I imagine most business owners are not aware of the benefits they can enjoy after winning or being nominated for an award.
So we did some research and discovered this:
• Award winning companies were shown to have experienced a 63% increase in operating income, and a 39% growth in sales when compared to non-winners.
(Source: British Quality Foundation)
• A study compared the financial performance of 120 award winning and 120 non-award winning companies across Europe of a similar size and operating in the same industries over 11 years. The study found that the award winning companies showed improvements in financial performance after just a year of winning their first award.
(Source: University of Leicester for the British Quality Foundation and the European Foundation for Quality Management.)
• The 120 award winning companies outperformed the comparison companies by an average of 77% for sales and 36% for share value. (Source: University of Leicester for the British Quality Foundation and the European Foundation for Quality Management.)
Put plainly, it would appear winning (or even just being shortlisted for an award):
. Raises your profile and enhances reputation
. Increases the level of trust from customers and potential customers
. Increases new business enquiries and ultimately sales.
A bit of a no-brainer if you want to improve your bottom line, right?

The good news is, thebestof Kettering is launching/running the Business of the Year 2020 Awards next week/right now for all our members. So if you'd like to find out more about joining and/or how to enter just give us a call on 01536 303304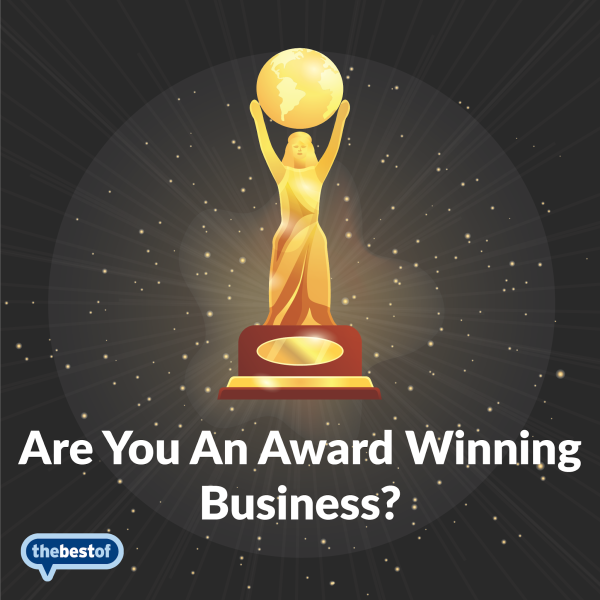 Top Tip #18 – Sell More

We're back with our weekly business growth tips and this week, we've got an effective (but super simple!) way to make more sales and more profit with almost zero work.
It's a strategy we're calling:
Just Sell More!
Here's the thing, in most businesses, when you sell a product (or even a service) there's a percentage of people who will just buy more of it - IF you give them the chance.
Let me explain with an example:
We know of a business that sells a special paint for houses, online.
They made one small change to their checkout process...
...they just let people buy more!
When someone goes to checkout they get a message offering them the chance to buy another pot of paint and add it to their order. That's it. No special offer, no crazy discount, no complex system.
They just let people buy more if they want to.
IMPORTANT: just because this strategy is incredibly simple, do not disregard it. It is devastatingly effective and added a whopping 41% of profit to this business. Just by giving people the chance to add more of the same thing they were buying anyway.
It works because we KNOW these people are interested in what we're offering - because they're already buying it!
And the best news? There is NO downside! The worst thing that happens is the person says "No Thanks" and just buys the original quantity they wanted.
So have a think...
When someone becomes a customer of yours, could YOU be selling them more of what they're already buying?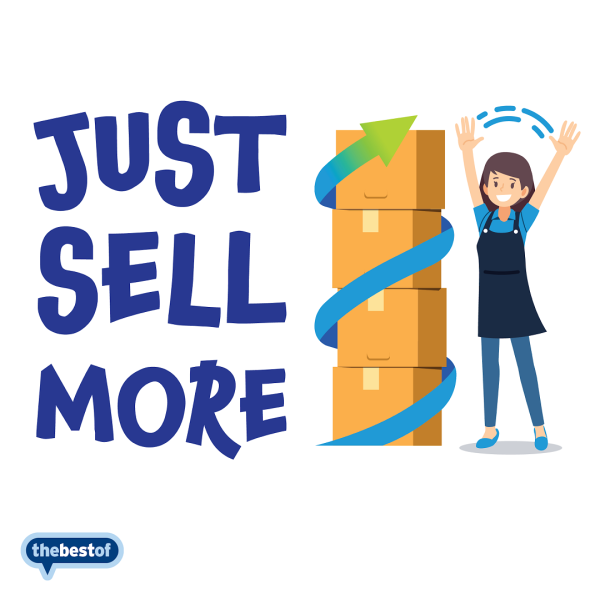 Top Tip #19 – Video

We're living in an age of videos. Dare I say a lazy age?
People haven't got the time or can't be bothered to read loads and loads of long copy.
They just want to sit back and watch.
With YouTube now being the second largest search engine in the world, just after Google, the age of the video is here and here to stay.
And if you're not using video in your marketing – then maybe this will make you think about the difference it could make to your business…
• 62% of Consumers Say Watching Videos Makes Them Feel More Confident in Buying
This figure is only going to increase over time. Prospects like to see who they are buying from, what they are buying and what other people think of the service.
• There is 88% More Time Spent on websites WITH Video than Without
We just want to watch and carry on instead of reading loads of sales copy.
• 1 Billion Visitors Visit YouTube Every Month
YouTube is now the second largest search engine in the world after Google, and who owns YouTube?
Yep Google.
So when you search anything on Google, it will also search YouTube.
• 59% of Company Executives Say they Prefer Video to Text
Hey, company executives are human too (so I hear!) so they would follow the same behaviours of consumers. That's why the numbers are around 60% for both.
They are even busier than the average consumer, so time is critical, hence the sway towards watching videos.
• Landing Pages With Video Have up to 800% Higher Conversions
Sometimes the long sales page still works, but videos have a much higher conversion rate for landing pages and squeeze pages.
You can get your message over in a far better way.
• Videos are 53 x More Likely to Appear on the Front Page of Google
This is only if they are relevant and tagged correctly. You can also manually enter your subtitles or closed captions into YouTube for your video, which will help with SEO.
*above stats: Hubspot 2018
If that doesn't show you how powerful and impactful video is to those businesses who use it then I'm not sure what will.
And the good news for those that can't bear the thought of being in front of the camera(!), there's plenty of other options you can use to still get the video put together such as Animated, stop-motion, voice over and more. Just give us a call and we can help get some video ideas together to help you grow your business.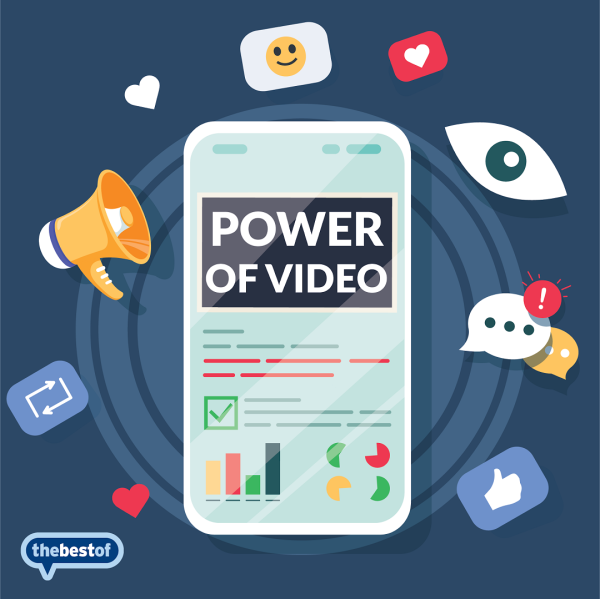 Top Tip #20 – Saying Too Much
Are you a Puker?
I make no apologies for the unsavoury choice of wording in the subject line for this Top Tip , because it's something that every business owner across Kettering does at some point when talking to potential future customers.
It can happen in both written form when you're creating content for a website, a flyer or maybe a sales letter and it can happen when you're face-to-face, or on the phone delivering a presentation or pitch of your business and its products or services.
The temptation can be to, what we call, "puke" over the customer.
You want to give them everything.
Every little bit of information.
Every possible feature.
Explain every single benefit.
You think it's important they understand every detail about what you're offering, right?
WRONG!

The reality is that when you're making people move towards making a decision, very rarely do you need to give them everything in order for them to make that decision.
What you actually need, is the one or two (or occasionally three), most important things from the customers perspective.
So our tip is to urge you to think about what you are selling to your potential customers.
Are you a "puker" or are you someone who is:
More selective.
Much more sophisticated
And as a result, much more effective at moving potential customers into real paying customers. That's because they're not confused, they're not overwhelmed, they're not bombarded because they understand that you understand them and the product and service that you've got for them is a perfect fit.