Last week I had the pleasure of visiting the Play Team at The Skylark Ward in Kettering General.
What an amazing experience just seeing how the play team help, support and look after the children on the ward.
I was introduced to Trisha Brigden who runs the team so I could hopefully add some support in fundraising for their special place, a place I had no idea existed!
So why do we need to raise funds for this childrens ward?
All the activities for the children, the toys, play materials, decorations etc have to be self funded. As an example an interactive floor that cost over £6000 was able to be purchased thanks to a donation from a local business man, this would have never been possible without this amazingly kind contribution.
It is a continual process keeping the ward in a condition that is right for the children's visit and never forget hospitals can be a scary place for adults!
Below is an overview of what happens there but if you want to support them just go to the bottom of this page for an email link to Trisha.
So what are the 'Play Team' all about and what do they do?
The Role of the Hospital Play Specialist
The title Hospital Play Specialist was coined in the 1970's to define to the role of a group of staff who supported children through the use of play in hospital. Today, qualified, registered play staff hold the professional title of Health Play Specialist (HPS) in order to reflect the broader role of health promotion and maintenance.
Play has a special function in the hospital environment and HPS lead playful activities and use play as a therapeutic tool, however, they are neither play therapists nor play leaders. Working closely as part of the multi-disciplinary team, HPS:
organise daily play and art activities in the playroom or at the bedside
provide play to achieve developmental goals and minimise regression
help children master and cope with anxieties and feelings
use play to prepare children for hospital procedures
support families and siblings
contribute to clinical judgements through their play-based observations
teach the value of play for the sick child
encourage peer group friendships to develop
These are some of the things the team create and run:
 Please don't forget all this is self funded!!
The Sensory Room

The aim of the sensory room is to provide stimulation; whilst at the same time offers a calming environment. Children with specific needs benefit greatly from this room as too can a distressed child be soothed and calmed.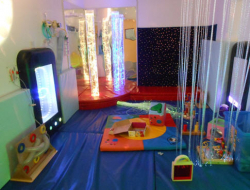 Play Space

The play space offers a variety of toys for children waiting to attend an appointment; children from all areas of the ward have access to this space. It also is used as a waiting area on Thursday afternoons for Pre-Assessment clinics.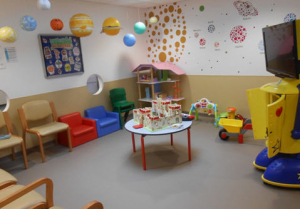 Reading Corner

This is another relaxing area. The bubble tube was donated by a patient's grandmother. The hangings and pictures were also brought via donated monies specifically for this space. Children can relax watching the bubble tube, or choose from the variety of selected books.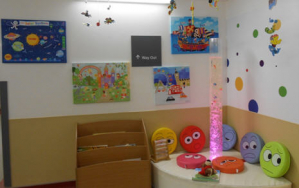 The Den

The den has been designed for young people to use from the age of eleven years. It has an x-box 360, a juke box, traditional arcade gaming table and a pinball machine. We also provide carefully selected dvds for adolescents.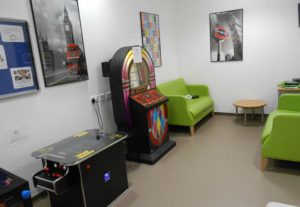 Who's who art work

These child friendly illustrations were created to demonstrate the roles of staff on the ward depicting the different uniforms.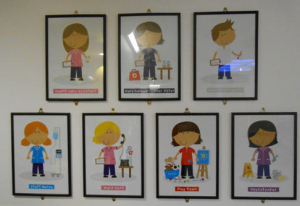 Pets as Therapy
We have two dedicated volunteers that bring their dogs onto the ward to visit children and their families twice a week. On Tuesday we have two Labradors that alternate their visits, and on Wednesday we have an Australian Terrier.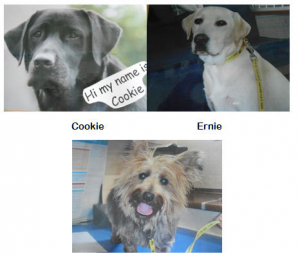 Music Therapy

Once a week, Lynn our Music Therapist visits the ward. She offers a selection of musical instruments for children to join in with.  The sessions are provided by Thomas's Fund, a local charity who aims to offer the therapeutic benefits of music to as many children as possible.
"Music therapy can help in many clinical situations, particularly where communication is difficult due to illness, injury or disability."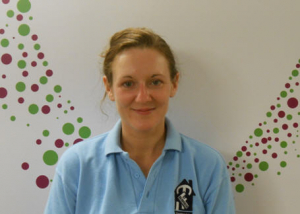 20Twenty Productions
Once a month 20Twenty Productions visit the ward. They provide laptops for children to create a selection of images, and create their own music files. There are often group sessions in the play room but they also offer resources to patients in isolation.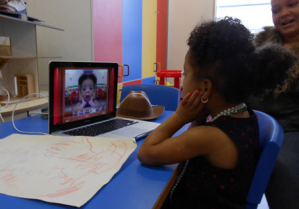 Charities
Rays of Sunshine Children's Charity was formed in 2003 to help children who are living with serious or life threatening illnesses between the ages of 3-18 across the United Kingdom.
"Starlight brightens the lives of seriously and terminally ill children by wish granting and also by providing fun entertainment, laughter and distraction for children in every children's hospital ward and hospice throughout the United Kingdom. All Starlight's activities are aimed at distracting children from the pain, fear and isolation they can often feel as a result of their illness."
Kettering McQueen are another charity that work alongside Skylark ward, providing a variety of resources for all areas of the ward.
Make a wish foundation are another charity that grant magical wishes to children and young people fighting life threatening conditions. This charity has been established since June 1986.
Smile Awards

In April 2014 the Play team were nominated for a smile award after rallying around to create what could be a patients first and last birthday. They won the KGH Hero Award.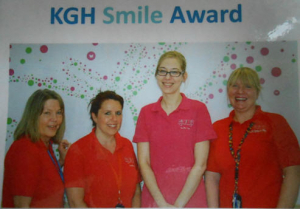 Pre-Assessment Clinic
Every Wednesday afternoon Skylark Ward run a Pre-Assessment Clinic for children and young people that are due to have elective surgery. The Play specialist's role in this clinic is to show the child and their family around the ward, and to make them fully aware of all that will happen on the day of their operation.
Distraction
The Play Specialist will offer distraction to children and young people adapting their skills to meet the needs of the patient. Distraction is used for blood tests, cannulation, lumber puncture, whilst medicines are being administered, in theatres and many more.

Preparation
The Play Specialist will also prepare patients and their families for any forthcoming procedures. The Play Team have devised photographic preparation books for many of the procedures that patients can potentially have.
To help support this amazing team and all the children who have to spend time on the Skylark Ward please just click below to email them NOW!
Donating is easy…
www.kgh.nhs.uk/charityfund   leave a message with your donation mentioning  'Play Team 25'
or cheque payable to paediatric play equipment fund
or see the Play Team on Skylark Ward, email trisha.brigden@kgh.nhs.uk   or phone 01536 492294