Kettering Businesses affected by COVID-19 you need our free Operation Protect!
Kettering Businesses affected by COVID-19 you need our FREE Operation Protect!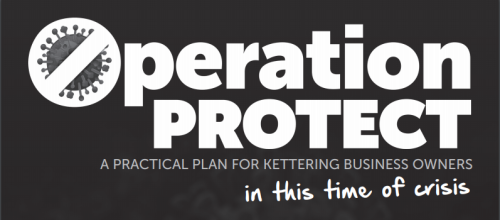 Welcome to Operation Protect!
Operation Protect is our FREE campaign to help get Kettering businesses back on their feet as quickly as possible and to give them purpose during Lockdown.
It's very easy to sink into your sofa or cry into your cornflakes but this only assures your business will suffer more than it needs to.
If, like me, you've ever wished there were more hours in the day then your wish has (almost) come true:
The good news is that you have no customers to interrupt you.
The bad news is that they aren't filling your bank account!

A lack of customers and the current level of uncertainty that we're all facing can make business owners panic.
What happens when business owners panic?
Panic causes poor decision making, which usually includes stopping ALL outgoing payments, without working out where sensible spending can actually be beneficial to the long term success of the business.
There's an old saying: 'Stopping marketing to save money is like stopping your watch to save time'. It just doesn't work, as what you save today you will pay for tomorrow. Now is the time to make considered, measured decisions that will put you in a great place for the future.
So what should business owners do who want to thrive after Lockdown?
Now that the dust is starting to settle and we're all adjusting to a new 'normal', savvy business owners are realising that this could be the opportunity they've been yearning for, to have quality time to work on their business.
To help those business owners come out of Lockdown in the best position, I've created lots of FREE resources. This includes a downloadable guide to help any and all business owners in Kettering make the very best use of their time whilst we are in Lockdown.
We'll work together to get all Kettering businesses ready for Freedom Day!
This is a unique situation, but by pulling together we can ensure that Kettering businesses are ready and able to thrive once this unique situation comes to an end.
How can YOU join Operation Protect?
We'll launch to non-members on 15th April. Until then I'll be prioritising my existing clients to make sure they're all on track, but you can get on the Early Bird list now.
Just email me at thebestof Kettering to gain priority access, we'll approve you as soon as it opens to the wider Kettering community.