Are you interested in Kettering, architecture, planning, preservation and much more?
Are you interested in Kettering, architecture, planning, preservation and much more?
Kettering Civic Society was formed in 1969 to inspire a sense in civic pride and encourage interest in the town.

Support Kettering Civic Society and you could be a winner in 2017!
To raise funds for the Society we are beginning a 100 Club when the first draw will take place in February. Please do consider joining for 6 months @ £6 or 12 months @ £12.
The more members we have the better and anyone may join without being a member of the Society, please let your family and friends know!
Application forms can be found on www.ketteringcivicsociety.net
The Civic Society is completely independent and run by enthusiastic people who love Kettering and what goes on locally.
The Civic Society was formed in 1969 to;
Encourage high standards of architecture and planning in Kettering.
Stimulate public interest in the town and its surroundings.
Encourage the preservation, development and features of public amenity and historic interest.
Inspire a sense of civic pride.
The Civic Society is completely independent:
Its income is derived entirely from voluntary subscriptions, contributed by public-spirited individuals and businesses.
It maintains close contact with local authorities, professional institutions and other civic amenity societies.
It works through exhibitions, discussions and publications, talks and outing - click for our full programme.
It is currently working to restore the Kettering Mosaic (previously on the Grammar School Science Block)
It now has a new base, 'Time Travellers' on Platform 1 at Kettering Railway Station.
The society puts on several events to raise funding to support local projects such as:
Civic Society Dinner & Talk: 
'Satellite Tracking in Kettering and beyond-my recollections'
Isabel Carmichael (Geoff Perry's daughter).

Celebrating the 50th Anniversary of The Kettering Grammar School Sputnik Tracking.

Friday 14th October at the Park Hotel Kettering.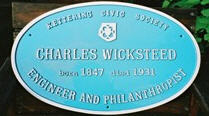 Blue Plaques.
The Society has begun its Heritage Trail by placing plaques around the town to commemorate well-known people who have contributed to Kettering's history.

Use their interactive map to find where the plaques are located and click on the plaques at the side for more information on each person. Just click here to see the map.
BRING THE KETTERING MOSAIC BACK TO THE TOWN

What Mosaic?
The first mosaic and original artwork by internationally acclaimed mosaic artist Kenneth Budd depicts a modernist abstract interpretation of Kettering's Coat of Arms which also shows Kettering's rich religious, cultural and industrial heritage, including Kettering's links to the birth of the Baptist Missionary movement, William Knibb and the abolition of slavery.
The mosaic was specially commissioned for Kettering Grammar School in 1962 and sited on a prominent wall at the school situated in Windmill Avenue Kettering. (Now the site of Tresham College). It measures 15 feet x 45 feet.
For much more information just click here.
Lend your support or take a look at their website here for loads of information about Kettering.