Talent of tomorrow: Kensington and Chelsea College art graduate selected for London exhibition Inside out.
Kensington and Chelsea College (KCC) Level 4 Art and Design graduate, Simone Bynoe, was selected by Curator Rosalind Davis for the Rules of Freedom exhibition. Simone is the youngest career artist to be exhibiting, alongside her KCC tutor, Justin Hibbs.
Davis said: "These works by Bynoe and Kajombo have been highly regarded in the context of the exhibitions without a consideration (in the best possible way..) of their position as young career artists and is something Collyer Bristow Gallery proudly supports.
I have found the artistic integrity and quality of the work of these artists to be able to sit comfortably amongst leading contemporary art practitioners and I look forward to returning to future foundation exhibitions at KCC to find the talent of tomorrow."
All works selected for the show haves themes relating to Freedom of Speech, expression and the struggle for political democracy. Simone's paintings are a physical and emotional embodiment of her response to the Grenfell disaster and the social injustices surrounding the tragedy.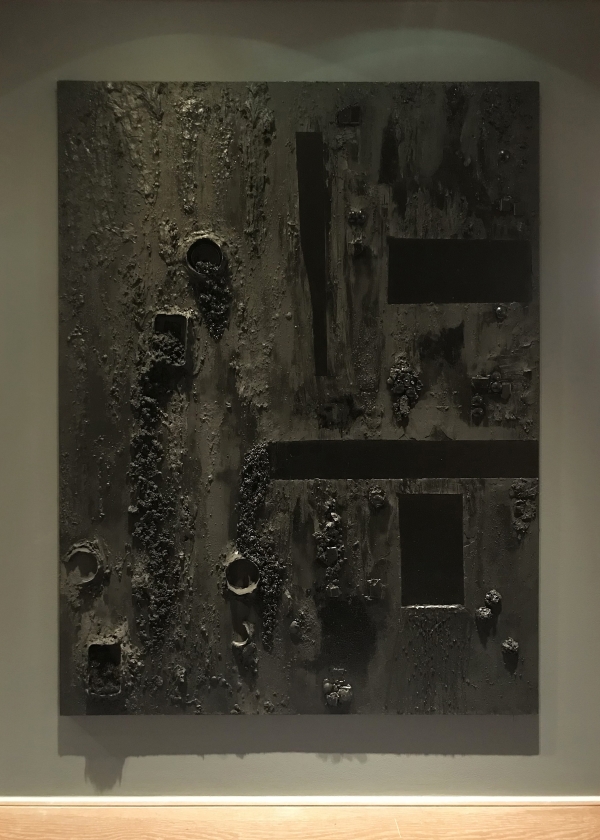 Bynoe grew up in Ladbroke Grove, where she also experienced the tragedy of Grenfell tower, which devastated the whole community. She said: "We lost family, friends and neighbours and all we have now is our memories and the desire to get justice for the victims. The fire has left a huge hole in our community but also brought us together more than ever... the textures in the painting Inside out represent the complex emotions surrounding this incident."
Exhibition details:
Rules of Freedom Curated by Rosalind Davis
Collyer Bristow Gallery, 4 Bedford Row, London WC1R 4TF
11 October - 13 Feb 2019
---
All content and Images provided courtesy of Kensington & Chelsea College.
Rules of Freedom is an exhibition in London including painting, photography, multi-disciplinary, sculpture and installation art.
Kensington and Chelsea College runs an exciting and well-regarded range of creative arts courses at its Kensington and Chelsea centres, from short courses to HNDs and BA top-up degrees, encompassing fine art, photography, design, pottery, glassmaking and jewellery.