KCC Students Have Been Selected to Exhibit at the Origins Creative Arts Festival
Work by Anibal Hernandez Palacios Caro
Students from Kensington and Chelsea College (KCC) have been selected to exhibit at the Origins Creative Arts Festival in London this month.
Work from KCC students from the UAL Extended Diploma in Art and Design (Fashion and Textiles) will feature in the show, which takes place in London 26-28 July.
Anibal Hernandez Palacios Caro's and Priya Mahey's work caught the attention of the show's curators, who received over 360 submissions for the festival.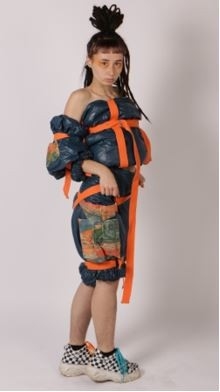 Work by Priya Mahey
Level 1 Fashion student, Sabrina Hussein, was also selected to exhibit her work at the Festival entitled Fashion and Architecture.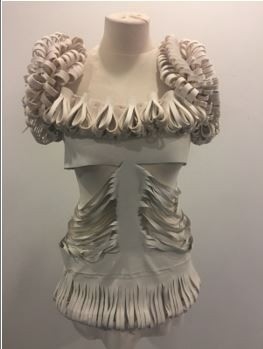 Work by Sabrina Hussein
Origins Creative Arts Festival is organised by the University of Arts London Awarding Body and provides art lovers, critic and industry professionals from the creative sector with the chance to meet original creative talent from 14-18 year olds across the country.
It showcases creative works from fashion, performing arts and music to sculpture, fine art and creative media from the UK's most talented students in schools and FE institutions taking pre-degree creative arts subjects.
Origins promises a unique first look at these as-yet-unseen future stars of the creative scene. Open to the public and it is expected to attract thousands of visitors over the three days, with the programme including an awards event to select the top work across each subject area, guest speakers, and performance tie-ins with Barbican Box.
Ross Anderson, Director, UAL Awarding Body said:
"Origins Creative Arts Festival offers students the significant opportunity to exhibit their work. It gives them a moment in time where they can experience what it is like to be an arts professional."
The private view will be taking place on 25 July, 6pm – 9pm at Truman Brewery, 91 Brick Lane, London E1 6QR
All students exhibiting at the Creative Arts Festival will have the chance to win a prize at the event's private view.
If you are interested in attending this event please e-mail s.kelly@arts.ac.uk
---
Issued for & on behalf of KCC