Students win at prestigious 'Inspired by V&A' awards
25th May 2018
... Comments
---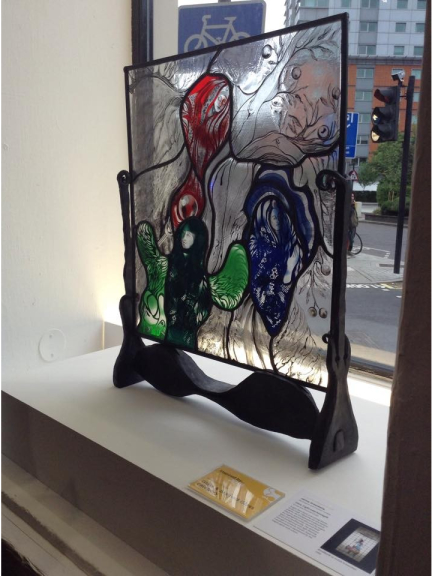 Glassmaking students at Kensington and Chelsea College have been successful in the 'Inspired by V&A' awards. Three Glassmaking students were shortlisted in this year's awards ceremony.  Janine Greenberg won in the category 'Glass and Stained Glass.'  Janine's work Love, Light and Strength was inspired by BirdBath, a stained glass work by Judith Scheschter on display at the Victoria and Albert Museum.
Two other students, Yanna Neame and Caroline O'Connor, were shortlisted for their outstanding work in glass, with their pieces: Starbust and In the Light of Fire. All three students study BTEC Certification in Art and Design Level 3 at the Kensington Campus.
The awards, that take place annually, were held at Morley College. Over 200 entries from over 30 institutions were received.  The students' work, along with all shortlisted entries, will be on display at the Morley Gallery until 26 May.
Janine Greenberg commented: "My understanding and interpretation of the angel of love, light and strength is explained in a pack of inspirational angel cards I designed a number of years ago.  The wonderful guidance of my tutor, the well-equipped workshop and the camaraderie of my fellow students made the production of my panel easy and enjoyable."
Yanna Neame said: "Glass is a very special material and I fell in love with it instantly during a short course. Kensington and Chelsea College offered me the opportunity to explore it further through structured, in-depth courses, BTEC Levels 2 & 3 in Glass. The College offers a great atmosphere, and you are encouraged to explore and fully enjoy your chosen medium.  The teaching is excellent and the facilities are great."
Maria Zulueta, Glass Lecturer at Kensington and Chelsea College, said: "I am proud of Janine's remarkable success. This award will greatly benefit her professional career in glass and open up new opportunities working in this creative field."