KCC welcome Fine Art alumni for 'Retour' exhibition
From Thursday 21 – Thursday 28 March Kensington and Chelsea College is hosting 'Retour' an exhibition featuring work from talented alumni of Fine Art courses.
The exhibition showcases work from six former students who each studied Fine Art between 1993-2019. 
Erika Winstone, the curator of the show and a Fine Art lecturer at the College, said "Our Alumni are extremely valued as exemplars to our current students of what is possible and this exhibition highlights their continued relationship with Kensington and Chelsea College and its current students."
'Retour' is the fourth alumni exhibition at the College, and includes work encompassing painting, sculpture, video, performance, word art and installation.
One of the featured artists, Abi Huxtable, said about her piece: "Sometimes I imagine a colour, or at least I thought I'd imagined it. The video opens, bright green plasma rays emanate from a spinning brain, set against a matrix of green flowing numbers on the background before disappearing to black."
All of the featured Alumni continued their study at prestigious Art schools including Camberwell, Royal College of Art and Central St Martins.
Artists within the exhibition:
Abi Huxtable, Luca Bosani, Ed Hadfield, Jala Wahid, Salii Yule-Tsingas and Seb Patane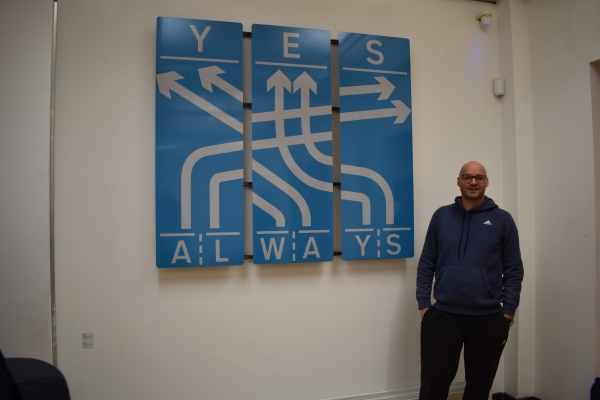 Ed Hadfield
Retour is open now at Hortensia Gallery from Thursday 21 March – Thursday 28 March
10am-5pm (Monday-Friday only)Seminar: Tuesday 26th March 3-4pm
Kensington and Chelsea College, Hortensia Gallery, Hortensia Road, SW10 0QS
---
Issued for and on behalf of Kensington & Chelsea College
Main Image: Jala Wahid. Dancing in Defiance of Death and Gravity, 2018. Jesomonite, enamel paint, variable dimensions