AFFINITY EXHIBITION CONNECTING KCC ARTISTS WITH FRIENDS
30th May 2019
... Comments
---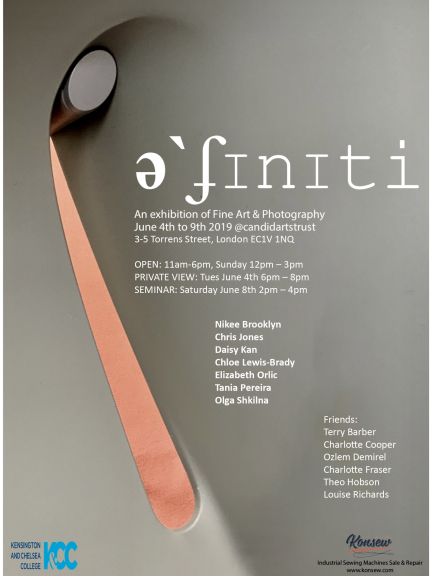 A group of seven artists from the Higher National Diploma (HND) Fine Art and Photography courses of Kensington & Chelsea College (KCC) join hands to present their year-end show at Candid Arts Gallery in early June. They focus on the explosion in multi-disciplinary practice to
realise their visual ambitions as they complete the equivalent of their second year of a BA degree.
Photographer Nikee Brooklyn explores the dependence of objects, while the rest of the group are fine artists working on painting, sculpture, textile, video and installation. This promises an exciting glimpse into their artistic practice at the Affinity Exhibition.
These artists are: Chris Jones, whose interest is on the relation between noise and information; 
Daisy Kan, rejigging sound and space in multi-media installations; Chloe Lewis-Brady, investigating the beauty norms of society; Elizabeth Orlic, exploring landscape in contemporary painting; Tania Pereira, focusing on animal architecture and making homes for wild animals; and Olga Shkilna, whose paintings are inspired by the ever changing urban landscape.
Joining the group to showcase their new work are their emerging artist friends, Terry Barber, Charlotte Cooper, Ozlem Demirel, Charlotte Fraser, Theo Hobson and Louise Richards. They are alumni of KCC who form a natural affinity and connection with the current HND students through a mutual passion in art.
"The students are working as a group to organise this external exhibition in order to acquire the skill and knowledge of how to manage and reach out to the relevant audience. The alumni friends'
participation is most valuable to them too," said Jane Eyton, HND Course Director at KCC.
The artists seminar on Saturday, 8 June will also give visitors a chance to join in a discussion with the HND artists.
Exhibition Venue:
Candid Arts First Floor Gallery, 3 Torrens Street, Angel, London, EC1V 1NQ
Opening Hours:
Private Viewing : Tuesday 4 June, 2019, 6 - 8pm
Wednesday 5 June - Saturday 8 June, 11am - 6pm; and Sunday 9 June, 12noon - 3pm
HND Artists Talk/Seminar : Saturday 8 June, 2 - 4pm
---
Issued for & behalf of KCC