HIGGLEDY PIGGLEDY PIE ON THE MENU AT THE LAWRENCE BATLEY THEATRE
23rd August 2016
... Comments
---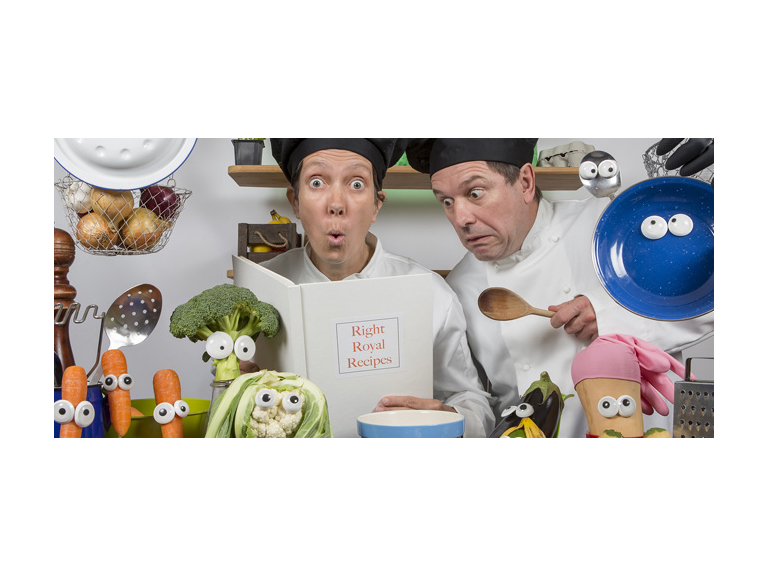 When the king asks for a higgledy piggledy pie for his supper the royal chefs are thrown into a spin, especially when they find the cupboard is bare!
The chefs are helped by their vegetapals to collect the special nursery rhyme ingredients. How many rhymes will it take to make a higgledy piggledy pie, and will it be ready before the dish runs away with the spoon?
Popular rhymes are brought to life using fruit, veg and a variety of kitchen objects. The royal chefs show that playing with your food is not always a bad idea.
Noisy Oyster are Sarah Rowland-Baker and Nik Palmer, an award winning children's theatre duo specialising in puppetry. With a combined total of over 40 years performing experience, they have taken their shows to audiences across the globe and also hold workshops in everything from circus skills to shadow puppetry.
HIGGLEDY PIGGLEDY PIE is a real delight, ideal for children aged 3 – 8 years old. The performance will take place in the Syngenta Cellar and children will have the opportunity to meet the puppets after the show.  
HIDDLEDY PIGGLEDY PIE is at the LBT on SATURDAY 10 SEPTEMBER at 11.00am and 2.00pm. Tickets are priced at £7 and can be booked via the Box Office on 01484 430528 or online at www.thelbt.org