The Red Lion Roars
30th April 2013
... Comments
---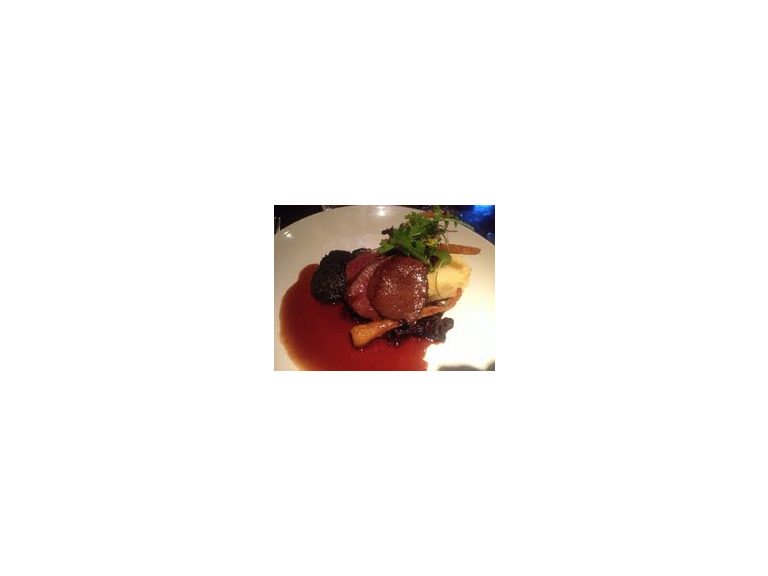 I have read a lot of complimentary comments about the dining experience at the Red Lion in Britwell Salome that I decided to book a table for two to celebrate Gillian's birthday. Britwell is just down the road from Watlington and is only a 15 minute drive from Henley.
Their website really sums up nicely what the Red Lion is all about. "The Red Lion recently reopened in 2012 by owners – Eilidh Ferguson and Andrew Hill (formerly of The Half Moon in Cuxham). Andrew is the Chef and Eilidh runs the front of house operation. All the food is homemade, using seasonal and local produce. Pork and beef is sourced from Red Lion Farm next door."
They go on to state "The general ethos is restaurant food served in a Pub environment. Friendly, yet professional service finishes off the experience. The relaxed atmosphere in this cosy Public House allows you to just enjoy a beer (locally brewed) or a glass of wine, try something from the selection of nibbles (the renowned 'Black Pudding Scotch Egg′ is a must-try) or enjoy a fantastic meal for any occasion. The tone of the place appeals to all ages and a variety of clientele from different walks of life."
We wouldn't disagree with any of the above. For me I loved the two good real ales on the bar, West Berks and Loose Canon. I felt that you could still pop in for a pint or two and have a snack, as well as dine in real style. As it was Gill's birthday we were going for it so we both had a starter, mains and a pud. The highlight of my food was the Venison with homemade black pudding, Dauphinoise potatoes and red cabbage. This was one of the best dishes that I have eaten for a long time. The venison was beautifully cooked and the black pudding went so well with it. Gill had the Mutton burger with Chilli and Mint, served with fries. She loved that as well though found it filling.
Our starters were nearly as good. I tried their signature Duck Hearts on toast (for lovers of game!) and Gill had the Soup of the day-Sweet Potato and Coconut. For pud I was a little disappointed with the Panna Cotta, only a little. Gill had their ice cream.
What we also liked was a bottle of water on the table at the beginning of the meal, very friendly and professional service and a good time between courses. Not too long but not too quick. That shows a very well-run kitchen. And plenty of time at the end of the meal to relax.
We would thoroughly recommend a visit to the Red Lion and will definitely be returning soon.
Written by Phil Chappell