Christmas Gift Inspiration in Henley-on-Thames
12th November 2013
... Comments
---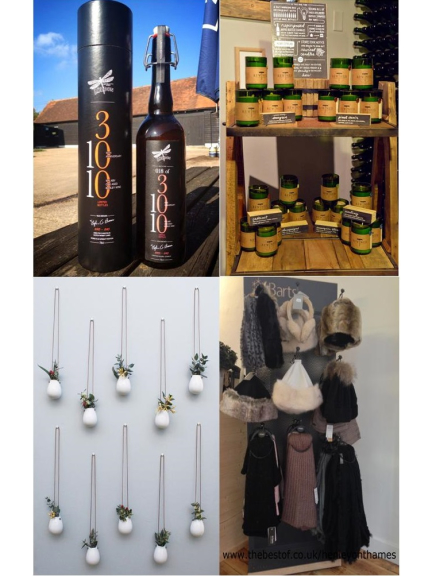 Have you started your Christmas shopping yet?Have you started your Christmas shopping yet?  Will you be doing it online, heading to a big shopping centre or trying as Phil did last year, to do as much as you can in Henley-on-Thames.  The advantage of buying your Christmas gifts in Henley means that not only can you save money on the exorbitant car park charges of nearby large towns but you may also find more unusual and unique gifts that you won't find elsewhere.
To save you some effort we've spoken to our Best of Henley members to ask them what they have in stock to tempt you this Christmas. So here is a roundup of all the gifts we've been told about so far. It's by no means exhaustive but we hope it inspires you to visit our members and let them solve your gift giving headaches this Christmas.
The River and Rowing museum gift shop is a good place to find unusual gifts and stocking fillers. This year they have Rewined candles for sale. These are empty wine bottles cut in half and filled with handmade candles with scents to make you think of vineyards and hot summer days.
Sno and Sun Gear in their new home in Market Place is the place for more practical gifts.  They have clothes and accessories for the keen skiers amongst your friends and family but their stock is also suitable for anyone who likes or has to be outside in cold weather.  This year they have a down-filled skirt that can be worn over trousers and ideal for people who have a dog to walk. You will only find this highly practical gift in one other shop in the UK. They also have a great selection of coats and hats that would make ideal gifts for anyone, especially if this winter is as cold as the last few.
Boatique in Hart Street have lots of gifts for everyone. They have just taken delivery of their popular Henley mugs with 2 different scenes of Henley on them. They have a range of wooden items from Maria Allen crafted from wood from a tree on Winston Churchill's family estate in Kent. They also have in stock some Samantha Holmes shawls made from a blend of baby alpaca and bamboo fibre. To decorate your home Boatique also has some petite hanging vases that look good on their own but are very effective in a group.
Loddon Brewery are celebrating their 10th anniversary this year and to celebrate they brewed a very special beer. They only produced 300 bottles and you can get one directly from the Brewery shop. They also sell their award-winning beer in the shop in packs of 3 or 6 bottles.
In recent years it has become popular to give "experiences" as gifts. The Chocolate Theatre Cafe sells vouchers for a number of denominations. What could be nicer than a cream tea with scones baked on the premises? Maybe a Luxury cream tea, a cream tea with the addition of a glass of fizz.  You can phone or visit the cafe to purchase the vouchers.
I hope I've given you some inspiration for your Christmas gifts and encouraged you to Buy Local for some of them. Have I missed anything? Let us know if you have found a great gift that I haven't mentioned.
Written by Gillian Chappell