Snow White and the Seven Dwarfs – come and audition for Woking's community pantomime!
30th September 2014
... Comments
---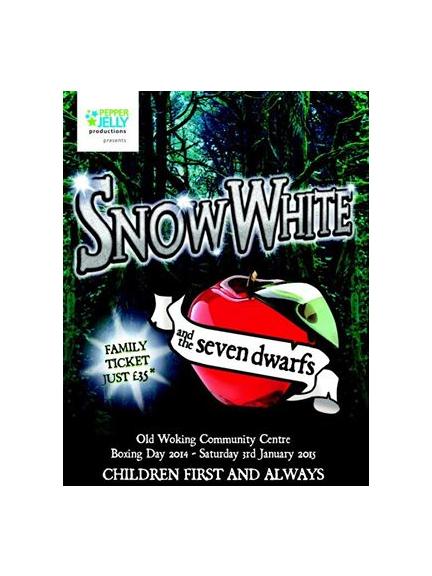 This Sunday, 5th October, dance school BKD Performers is hosting auditions for this year's panto, which will be staged by BKD's sister company, Pepper Jelly Productions.  
A team of creatives with over 30 years experience in the pantomime, theatre and entertainment are being brought in to work with the cast and produce a show to a professional standard.
The pantomime is going to be Snow White and the Seven Dwarfs and it will be performed at the Old Woking Community Centre from 26th December 2014 until 3rd January 2015 (no performances on New Year's Eve).  
BKD and Pepper Jelly will be casting all the main characters as well as a juvenile chorus and a senior chorus. A full cast list, along with expected skill sets and other guidance, can be found here – if you're interested in auditioning for a particular role, please email panto@pepperjellyproductions to register.
Auditions are open to everyone and there is no cost to be involved! It goes without saying that if you're successful, Pepper Jelly Productions expects a full commitment to all rehearsals and shows. Please visit the Pepper Jelly website here for all the dates and make sure you keep them free!  
This is a great opportunity to get involved in a professional pantomime and launch your stage career.
Snow White and the Seven Dwarfs auditions
Old Woking Community Centre
Sunday, 5th October 2014, 2pm-6pm