Covent Garden comes to Redhill
11th September 2014
... Comments
---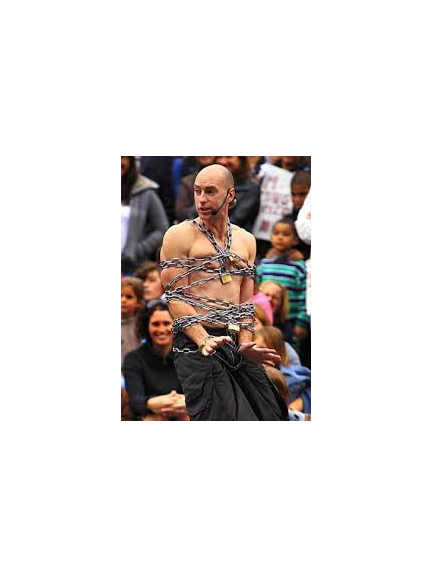 Whenever you're in London, it's a real treat to catch some street entertainment in Covent Garden where some of Britain's best performers share their incredible acts. Make sure you're in Redhill on Saturday, 20 September between 11am and 4pm when some of Covent Garden's top acts will be performing for the people of Surrey!
Rob Roy Collins is a world famous escapologist and world record holder. He's escaped from chains, padlocks, handcuffs, straitjackets and...um...clingfilm not only in Covent Garden but all over Europe and as far away as Australia and New Zealand. A great showman, Rob Roy Collins will amuse, excite, thrill and entertain and you'll love every minute of it!
You may remember Faces of Disco from  Britain's Got Talent a few years ago – they're coming to Redhill too, bringing their mask-wearing dance routines and sending up anyone and everyone.
The Simeon Kiola Team bring you incredible stilt stunts. Marching around on their spring-loaded stilts, the performers show off their mind-blowing tricks: somersaults, back flips, spins and high jumps. The group has performed with Cirque Du Soleil and you might recognise them from TV adverts too.  
Betty Balloon creates characters completely from balloons and lets them help her tell stories! Dressing up the audience in balloon heads and furnishing them with balloon props, adults and children alike can enter her fabulous balloon world!
This is going to be a cracking day in Redhill's town centre – just turn up and join in...and put something in the hat too, eh?
Redhill Town Centre
Saturday 20 September, 11am-4pm