Corporate Sailing Regatta - The Solent Hampshire - Wednesday 25th May 2016
15th December 2015
... Comments
---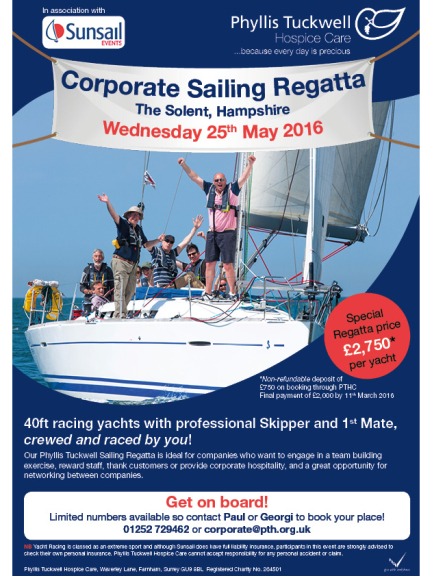 Phyllis Tuckwell Hospice Care have secured the use of thirty, 40 ft racing yachts, each with skipper and mate for a day's yacht racing out of Port Solent, Hampshire. Each yacht will have a professional skipper and mate, so no sailing experience required but for the more experienced crews, the skipper will simply be there for insurance purposes. The day will consist of breakfast reception,  days racing, light lunch on board, followed by a BBQ prize giving and networking opportunity in the club house at Port Solent. Sunsail are a very experienced, worldwide charter company and hold many corporate regattas every year and always deliver a very professional and well managed event. Their on shore facilities, including showers, refreshments and parking are superb.
This package would normally cost in the region of £4500+vat but due to the support of Sunsail Events, we are able to offer it at £2750 per yacht
Each yacht can be 'dressed' in corporate colours, flags etc.
As well as the days sailing, there are sponsorship opportunities for the pontoon reception drinks, (Each crew member greeted on the pontoon with  something refreshing after the days racing) and BBQ reception drinks.
The prizes will be presented by Tracy Edwards, MBE and skipper of the all-female crew of Maiden Great Britain in the 1989 Whitbread Round the World Race. 
If you would like to give this a go and put a team together it's a mininum of 6 and max of 10 people. 
Cost - Deposit is £750 for boat or £75 per person based on a team of 10 people.
If you woudl like to find out more about this, please contact Paul Pearson on 07512 773093 or email him at Paul Pearson Paul.Pearson@pth.org.uk
Please suppport a very worthy charity because as they say........every day is precious!