Christmas Events in Guildford!
19th November 2013
Author: Tom B
Comments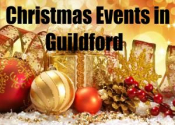 This Winter, Guildford has a huge amount to offer, and you don't have to wait until December for the festive spirit to kick in!
Starting on November 21st which quite possibly marks the start of the festive season, the Christmas lights in Guildford High Street will be 'officially' switched on, followed by a firework display!
At the start of December, Cinderella the Christmas panto starring Bonnie Langford, gets underway at the Yvonne Arnuad Theatre, with performances running from 6th December, all the way through to January 12th!
There is plenty more to offer, so make sure you check out the best Chrsitmas events in Guildford! - 
http://www.thebestof.co.uk/local/guildford/events/christmas-events