Aladdin, Rub My Lamp – this year's adult panto from the Guildford Fringe
3rd December 2015
... Comments
---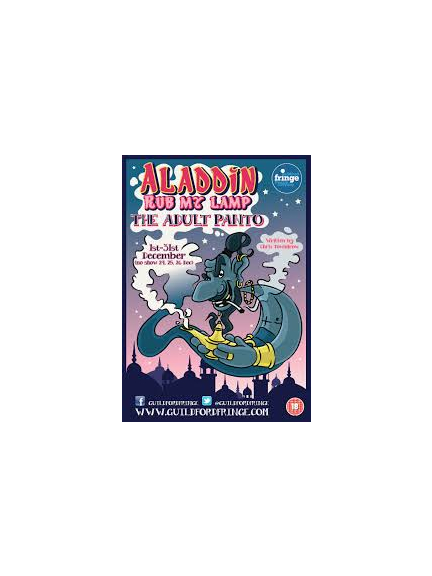 Family fun? Definitely not. Big budget West End razzmatazz? None of that either. The Guildford Fringe's annual "adult" panto has its tongue in its cheek (and some other places), the humour of Carry On films (minus the subtlety), sends itself up and has that wonderful "falling apart" feel you only get with fantastic direction.
Aladdin, Rub My Lamp was every bit as rude and as funny as it was promised to be. It jumped deliberately in and out of its magical panto world: love and laughter mixed with interruptions from agents, complaints from the management, complaints from the cast, "forgotten" lines, and bodged costume changes – a vodka-and-coke upended over pantomime tradition.
Never having been a fourteen year old boy, I don't find blow jobs particularly funny – make the sex less overt and you'll get more laughs, I reckon. But the lady sitting next to me didn't seem to mind (and would have sung about sex toys all nights had Wishee Washee let her) and the Mayor thought it was hilarious!
The cast was very strong and a special mention has to go to Damian Escayg as a nymphomaniac Widow Wanky: fur coat and no knickers (I presume), shimmying energetically around like someone with a nervous tic who also needed a wee. Also brilliant were Samantha Hastings as the Princess – what a wonderful voice! – and the very versatile Alice Ferreira as the Spirit of the Ring, the Genie of the Lamp and (briefly) herself.
High brow theatre this is not but get your mates together, drink a few drinks, cheer Aladdin and boo Abanazar – have yourselves a rude and silly Christmas treat!