The importance of Warming up and Cooling down
If you're involved in sport and enjoy exercise, do you make time for a proper warm up before you get started and a cool down afterwards?
If you incorporate a good warm up and cool down routine into your exercise programme, you may help to avoid many of the common sports-related problems that patients often consult us for at Fleet Osteopathic Clinic.
Warming up
Warming up gently helps prepare your body for strenuous activity, gradually raises your body temperature and increases blood flow to your muscles. This slow increase of activity can help to increase your flexibility, enhance your circulation and reduce your risk of injury. A proper warm up will help prepare joints, muscles and tendons for their work out and may, ultimately, improve your performance.
Your warm up should include these 3 elements:
• Pulse raiser to gently increase your heart rate in preparation for exercise (walking, jogging, cycling, skipping)
• Dynamic stretching which mimics the movement of your sport or exercise, gradually increasing speed and intensity
• Specific exercises to prepare for your chosen sport (running, swimming, weights etc).
Cooling down
Cooling down after your run or workout allows your heart rate, blood pressure and tissues to gradually recover. It's a good idea to continue your workout or exercise session for a few extra minutes but at a slower pace and lower intensity. Then gentle static stretching can help muscles return to their pre-exercise state.
Dynamic stretching is an important part of your warm up activity and static stretches your cool down. These help prepare your body and tissues for exercise and help their recovery afterwards.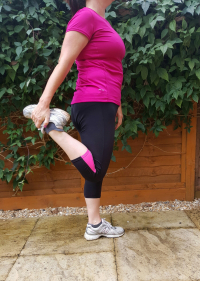 If you're preparing for the Fleet 10K, whether you're a seasoned runner or new to the sport, never underestimate the importance of a proper warm up and cool down session. Pre or post exercise massage can also be a helpful part of your training routine. If you are suffering from a sports-related problem, repetitive strain, joint, muscular or tendon injury, or would like advice, contact Fleet Osteopathic Clinic to discuss whether osteopathic treatment might be of help.