Supermarkets to charge 5p for carrier bags from 5 October
4th October 2015
... Comments
---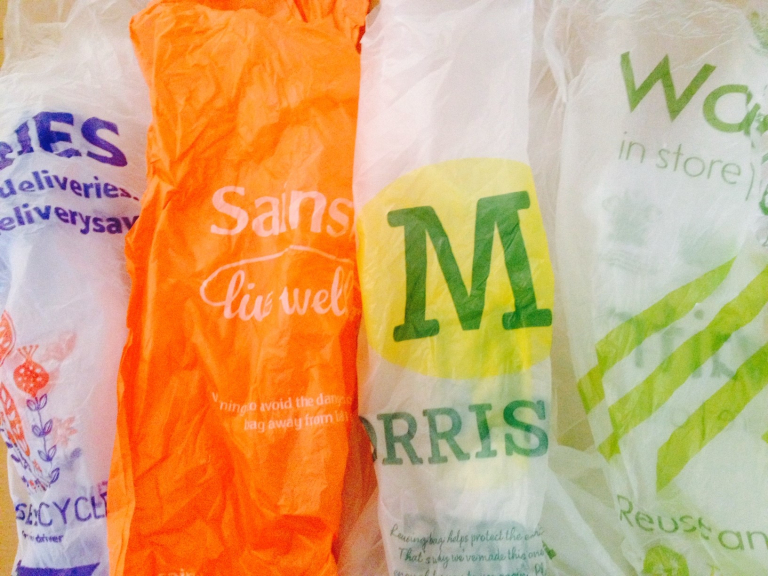 Large stores in England will start to charge 5p per single use carrier bag from Monday 5 October.
In 2014 stores handed out 7.6bn plastic bags, an increase of 200 million on the previous year. Campaigners claim that plastic carrier bags damage the environment and wildlife as they do not biodegrade as well as causing a littering problem.
The government hopes this charge will see an 80% drop in usage of these bags. Since introducing similar charges usage of carrier bags has dropped significanltly in Scotland, Wales and Northern Ireland.
This charge applies to shops or chains employing 250 or more full time staff and for all bags less than 70 microns thick - which covers supermarket bags and many high street shops such as clothing retailers. Smaller stores do not have to charge for bags, but they can do so voluntarily. Shops do not have to charge for single use paper bags.
The charge will also apply to supermarket home delivery - although some have said this will be a maximum charge of 40p. Most supermarkets also have a 'no bag' delivery option.
There are some exceptions where charges will not apply:
for uncooked fish, fish products, meat, poultry and their products
for unwrapped food for animal or human consumption - eg chips or food in containers that could leak
for unwrapped loose seeds, flowers, bulbs, corns, rhizomes (roots, stems and shoots, such as ginger) or goods contaminated by soil (eg potatoes or plants)
for unwrapped blades, including axes, knives, and knife and razor blades
for prescription medicine
for good bought at an airport or on a train, plane or ship
bags for life
used for a service eg dry cleaning or shoe repairs
If the bag contains items which are not on the list, however, the charge will still apply.
Many supermarkets have said the money they raise will support good causes:
So if you want to avoid the charge make sure you use your bag for life when out shopping.