Snow White panto at The Harlington
This year's pantomime is Snow White and the Seven Dwarfs performed by Starburst Theatre.
Formed in 1991 following successful theatre productions which raised money for local children's charities, Starburst theatre company perform pantomimes and summer shows with all profits going to the Starburst Foundation.
But what about the performance itself? It is an amateur production, and I have to say I was expecting to see an amateur performance, even though my daughter had been to other Starburst productions in the past and enjoyed them.
But this is anything but an amateur production - the acting, singing, dancing and costumes are all worthy of a professional performance.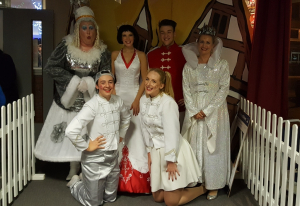 You could see how much Lynne Main who plays Queen Malevolent enjoyed playing an evil role and both her and Alex, who played Snow White sing beautifully.
Prince Rupert reminded me of Prince Charming in Shrek and Lord Chamberlain and The Huntsman (both studying performing Arts at Farnborough College of Technology) are a joy to watch.
I was lucky enough to meet some of the cast back in October when they had just started rehearsing - you could see then that Hannah and Aidan who play Handy and Andy already had a connection and that has obviously grown during rehearsals as they make a great comedy duo.
I could also see a glimpse of an extrovert in Daryl who plays Dame DoItAll but I had no idea what a fun character he would be - he has great comedy timing, can sing and really makes you smile!
Many of the cast are also studying Performing Arts at Farnborough Tech and there are also local children playing with some real talent - and the dwarfs are brilliant!
All profits go to the Starburst Foundation, run by volunteers, whose sole purpose is to assist local children with special needs and those who are seriously ill. The Starburst Foundation provides bespoke or specialist equipment to help them with their daily lives. The commitment to this cause was also evident when I spoke to the cast, some who also give their time to the charity too.
I now understand why Starburst have won an Accolade of Excellcence from NODA.
Fans of Disney will recognise the story, there are lots of "It's behind you" and other traditional pantomime audience participation, plenty of slapstick, sweets, and if you are a man sitting near the front at the end of a row - be prepared to become the centre of attention for a while!
This performance ends on Christmas Eve so you need to be quick if you want to see it as tickets are selling quickly.