Schoolchildren from across Aldershot and Farnborough helped Rushmoor Borough Council to launch its annual Rushmoor in Bloom competition.
Children from 20 schools and nurseries attended a special launch held at Squire's Garden Centre in Badshot Lea on Thursday 19 April.
The schools' competition includes seven categories ranging from the Best School Grounds to the Best Royal Garden, inspired by the upcoming royal wedding and arrival of the new Prince.
At the launch, schools entering the Plantalicious Pot category sponsored by Squire's Garden Centre, picked up their free plant kits with a selection of edible plants to get them started on their gardening journey.  The children then have to use their imagination to nurture plants, which can be eaten or used to create a delicious drink!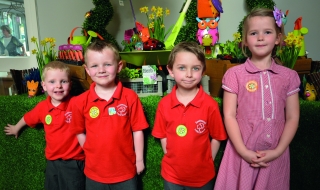 Pupils from Southwood Infant School help launch Rushmoor in Bloom 2018.
The children will be competing for a variety of prizes including £100, £50 and £25 in gardening vouchers for their school.
Children from across Aldershot and Farnborough are also being invited to create their own designs for a colourful square flowerbed, which the council's gardening team will turn into reality.
Lisa Thornett, Rushmoor in Bloom co-ordinator at Rushmoor Borough Council said: "We have set aside a flower bed in Manor Park and we can't wait to see the children's designs for the space – we are looking for something bright and colourful that the whole community can enjoy all through the summer.
The flowerbed designs can be painted or computer generated and can be a maximum size of A3.  The child's name, age, school address and contact number. The closing date for the competition in Friday 22 June.
The council is also asking children to create colourful poppy pictures at school, which will be displayed in Aldershot town centre as part of the Ribbon of Poppies initiative.
As well as the schools' competition, Rushmoor Borough Council is also inviting keen gardeners to join in the competition.
There are 13 categories including the best front garden, most unusual planted container and Best Street for community entries.
Lisa added: "There are so many ways residents can get involved with Rushmoor in Bloom, by entering your front garden, creating a display of baskets or a colourful planter.  You can also get together with their friends and neighbours to create a community entry or volunteer your time to join a local project."
Businesses are also encouraged to take part and can enter the best pub/restaurant frontage or best commercial display or landscaping.
Residents who would like more information on the Rushmoor in Bloom competition, or who would like to enter should go to www.rushmoor.gov.uk/rushmoorinbloom
The closing date for entries is Friday 22 June.