Redfields Choose Phyllis Tuckwell as Charity of the Year
Redfields Garden Centre in Fleet have recently chosen Phyllis Tuckwell Hospice Care as their Charity of the Year, and have kicked off their support in festive style, by sourcing and part-donating a 20-foot Christmas tree to the charity.
Every November, Phyllis Tuckwell– which provides supportive and end-of-life care for patients and families who are living with a terminal illness, such as cancer - puts up a Christmas tree outside its Hospice building in Farnham. As well as marking the festive season, the tree forms part of the charity's annual Light up a Life service, which celebrates the lives of those close to our hearts, who have sadly died. This year, Redfields Garden Centre kindly sourced the 20-foot tree and, together with local retirement home Anchor'sKeble Court, donated it to the Hospice. During the service, held on Monday 28th November, the lights on the tree were switched on, representing the lives of those who were being remembered in the service, and those present hung glowsticks on the tree's branches and placed tea lights around its base.
Redfields also donated six artificial trees to go inside the Hospice, along with lights and decorations, and have many other festive activities planned throughout December, including evening choir and brass band performances, at which mulled wine, hot chocolate and mince pies will be sold, and face painting will be on offer for the kids.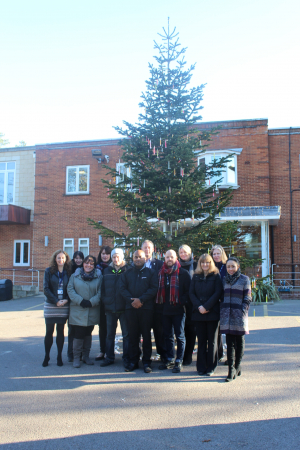 The New Year will bring with it more fundraising events for both staff and customers, including a volunteering day, on which staff will help out with gardening projects at the Hospice. Bag it and Give collection bags will also be given out at the garden centre, for customers to take home and fill with any unwanted items they may have – old clothes, books, or DVDs, for example - which can be sold in Phyllis Tuckwell's shops.
"We are delighted that Redfields have chosen us as their Charity of the year," said Vanessa Beech, Corporate Fundraiser at Phyllis Tuckwell. "The Christmas tree which they sourced for the Light Up A Life service was perfect for this very special event, and the smaller ones inside the Hospice give a warm and festive feel throughout the building. We would like to thank them for their support and dedication, and look forward to working with them in 2017."
"We have set ourselves a target of raising £20,000 for Phyllis Tuckwell, and have lots of exciting activities planned to help us achieve this," said Charles Miller, manager of Redfields Garden Centre. "PhyllisTuckwell was chosen as our Charity of the Year by the staff at our Fleet Garden Centre, and is a cause which is close to our hearts. We are all looking forward to doing everything we can to reach this target, and helping Phyllis Tuckwell to continue providing the excellent and vital care which it offers to those living with a terminal illness."
Phyllis Tuckwell supports over 250 patients, relatives and carers every day - in their own homes, at the Hospice in Farnham and at the Beacon Centre in Guildford - through medical and nursing care, therapies, counselling, social work advice and practical support. As the NHS/Government only covers 20% of its costs, it has to raise over £20,000 a day to be able to do this. If you would like to find out more about supporting Phyllis Tuckwell through your business or place of work, visit www.pth.org.uk/corporate-partnerships, call Vanessa Beech or Nick Adams on 01252 729446 or email corporate@pth.org.uk