TSB chooses Phyllis Tuckwell as their Charity of the Year
27th October 2017
... Comments
---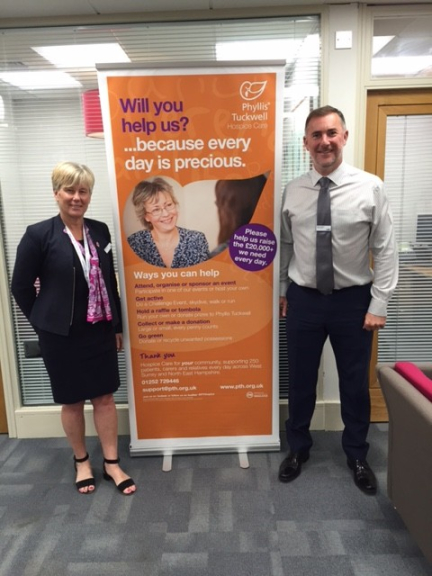 TSB Alton have announced that Phyllis Tuckwell has been chosen their Charity of the Year in a local public vote which the branch recently held. Staff at TSB Alton are very keen to support the local Hospice Care charity and have already set themselves a goal of £1,500. They will raise this money throughout their charity year, which started on 1st September, by holding coffee mornings and cake sales in their branch, and organising a variety of staff social events. They are also selling PTHC pin badges in their branch and have a range of second-hand books on display too, which customers can take in return for a donation.
The money raised will go towards funding the supportive and end of life care which Phyllis Tuckwell provides for local patients and families who are living with a terminal illness such as cancer. Every day it supports over 250 patients, relatives and carers - in their own homes, in the community, at the Hospice in Farnham and at the Beacon Centre in Guildford, through medical and nursing care, therapies, counselling, social work advice and practical support. However, as the NHS/Government only covers 20% of its costs, it has to raise over £20,000 a day to do this.
"We would like to thank all the staff at TSB Alton and everyone who voted for us in the public vote," said Vanessa Beech, Corporate Fundraiser at Phyllis Tuckwell. "We are really looking forward to working with TSB Alton throughout the year and supporting them in their fundraising events."
"We are very pleased to be supporting this vital local charity during our charity year," said TSBAlton's Branch Manager Mark Davis, "and we already have a number of exciting events planned. Phyllis Tuckwell is such an important and well-respected local charity, it's great to be involved in helping to fund their care."
If your company or employer would like to find out more about supporting Phyllis Tuckwell, please call the Corporate Fundraising team on 01252 729564, email corporate@pth.org.uk or visit www.pth.org.uk/corporate-partnerships.