Keepsake Books at Phyllis Tuckwell Hospice Hold Patients' Special Memories
Phyllis Tuckwell, which provides Hospice Care for local patients and families living with a terminal illness, such as cancer, is holding a series of workshops to help its patients create a keepsake book or box to hold their special memories.
The project is being run by FarnhamMaltings, whose experienced tutors are leading the sessions at the Hospice. Weekly sessions over four weeks will see the patients, each of whom will be accompanied by a family member or friend, bring keepsakes and treasures along to talk about and capture in a personalised book or box, which they can then keep and look through to help them remember those special times. The keepsakes can include items such as letters, photos, ticket stubs, coins, medals and fabrics, each of which triggers a memory of a special time, enabling patients to share their stories of these times easily with their family member or friend, and make new memories for them both whilst reliving old ones.
"We hope that, in creating these keepsakes boxes, our patients will be able to relive and share some very special memories with their loved ones," said Karen McEvoy, a senior nurse at Phyllis Tuckwell. "Every day we care for over 250 patients, relatives and carers who are living with a terminal illness, and workshops such as this are very important. They help patients and their carers to remember special and happy times in their lives and share these together, as well as giving them a sense of achievement and fulfilment which comes from creating something themselves."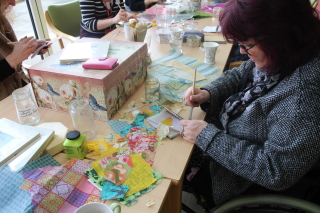 Farnham Maltings have already run this workshop with dementia patients, and have been looking for opportunities to widen their work with other local organisations. Thanks to funding from Waverley Borough Council, they have been able to extend it to Phyllis Tuckwell's patients, who are certainly enjoying it so far!
"This is my first session, and I am very pleased with the Keepsake Book which I have created," said patient Jane Searle. "I love the companionship too, chatting with the others here about our memories, and the creativity which the project has inspired in me."
"We are delighted to be working with Phyllis Tuckwell on this Keepsake project," said Christine Lee, Arts and Health Project Manager at FarnhamMaltings. "As a local organisation with an ambition to encourage more people to make their own art, we feel it is very important to engage with the local community and are passionate about providing access to the arts in healthcare contexts."
Phyllis Tuckwell supports over 250 patients, relatives and carers every day, through medical and nursing care, therapies, counselling, social work advice and practical support.To find out more about Phyllis Tuckwell and the care it provides for local people, please visit www.pth.org.uk