Hindhead Santa Extravaganza for Hospice Care!
28th November 2017
... Comments
---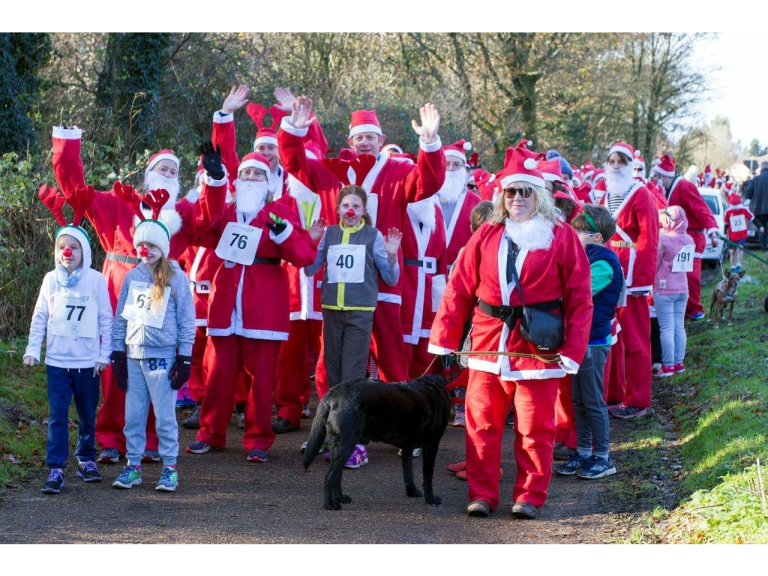 Raising money to help fund the supportive and end of life care which the local Hospice Care charity provides for patients and families who are living with a terminal illness, such as cancer.
Over 160 festive fundraisers gathered in the chilly morning air for their 11am start. With adults dressed in Santa suits and beards, and kids wearing flashing red noses and antlers, the Run really was a Christmas extravaganza! Richard Wyeth, from local company Yaketyak productions, led everyone in a warm-up routine, complete with Christmas music and dance moves, ensuring that all were ready and raring to go when the countdown started them off on the 3.5km route.
"We would like to thank everyone who took part in the Hindhead Run," said Fiona Chapman, Events Fundraiser at Phyllis Tuckwell. "We support over 250 patients and relatives every day, but as the NHS/Government only cover 20% of our costs, we have to raise over £20,000 a day to do this. These Fun Runs are a fantastic way for people to get involved and help us hit this target. Last year they raised just over £20,000 - enough to cover the costs of providing our Hospice Care at Home service for over a week, enabling patients to spend their last days at home, visited by our nurses and doctors, rather than in hospital or at the Hospice - and we are hoping to top that total this year. We would also like to Paul Fitchett Images for taking photos on the day, our new corporate sponsor of the Fun Runs this year – Toyota Inchcape – and all of our wonderful volunteers without whom we wouldn't be able to hold these Fun Runs. Your support is really important to us and very much appreciated."
If you missed the Hindhead Run, don't worry! You can join one of the next two Runs, at Broadwater Park in Godalming on Saturday 9th December, or at the Queens Avenue Playing Fields in Aldershot on Sunday 10th December. Registration is £14 for adults and £7 for children (u14). Book your place now by visiting www.pth.org.uk/event-diary or calling 01252 729446. Registration includes a Santa suit for adults, reindeer antlers with a red nose for children, and festive goodies and a medal for everyone who completes the course.