Gold standard Dog Warden service in Hart
27th October 2017
... Comments
---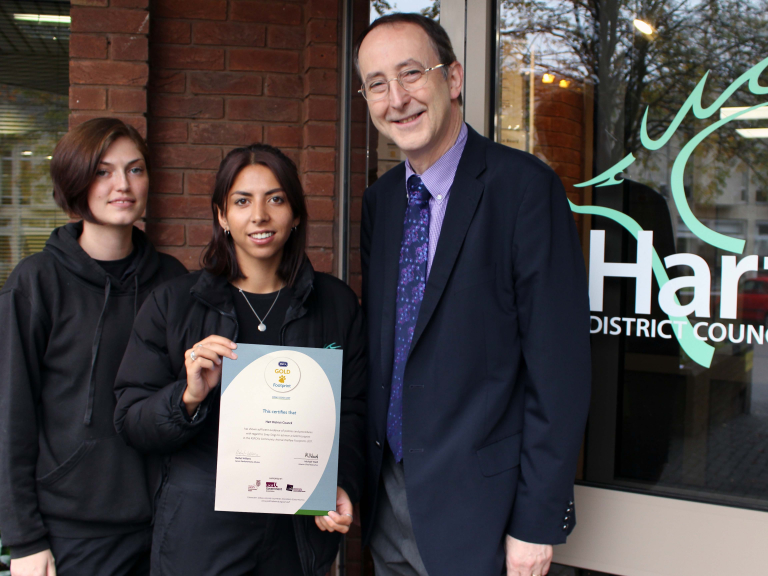 Hart District Council has been awarded the prestigious Gold Footprint Award for the sixth year in a row.
The RSPCA Community Animal Welfare Footprint (CAWF) awards celebrate the good practice by rewarding those organisations who go above and beyond statutory service requirements with the aim of achieving higher animal welfare standards.
Cllr Adrian Collett, Cabinet Member for Regulatory Services a Hart District Council, said: "To receive the Gold Footprint Award for the sixth year is a row is no mean feat. My thanks to our Dog Warden Ayesha and her apprentice Sarah who continue to deliver high standards of animal care across the district and work hard to promote responsible dog ownership, provide advice on dangerous or aggressive dogs and enforce our dog fouling and dangerous dogs laws." 
Rachel Williams, senior parliamentary advisor for the RSPCA, said: "Hart District Council was one of 58 local authorities across England and Wales to receive the gold award for stray dog provision and one of just 27 to receive the award for more than five years in a row. 
"I am delighted that they are among the many organisations to have maintained or bettered their CAWF award this year and very encouraged to see new entries too. In the current economic climate it is by no means easy for organisations to come up with, fund and have manpower to protect and improve animal welfare within their communities so our awards are their chance to shine and be recognised for the difference they are making."
The Council's Dog Wardens Ayesha Saifie and Sarah Streeter will be joining Cllr Collett at the CAWF Winners Reception on 28 November at Parliament Square in London to be officially presented the award with fellow winners.