Fleet panto is back again this year and Fleet we are in for a treat.
12th December 2014
... Comments
---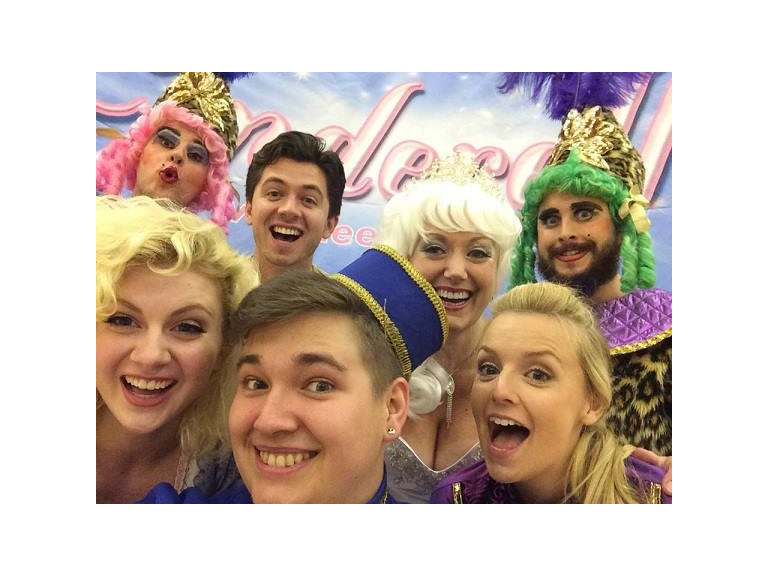 Once again Amanda and the team at Tastic productions have written a great script and score that all the family will enjoy.
Building on the success of last year's panto this is a professional cast and the quality shines through in both the acting and singing. As Prince Charming Nadim Naaman's voice is not to be missed and his West End experience is clear to see. Victoria Quincey is excellent as Dandini and the ugly sisters play their parts with great comedy timing. Joel Mellinger (the delightful bearded lady) has a cheeky glint in his eye and I feel that more of the ugly sister's dialogue will stray into improvisation to the great enjoyment of the audience as time goes on.
CBBC presenter Chris Johnson portrays a touching vulnerability in the role as Buttons but also shows great comedy timing and wins the affection of the audience. And, of course, Amanda Goldthorpe-Hall as the Fairy Godmother is a delight.
Children from local schools in and around Fleet play supporting roles and sing, dance and act to a high quality.  It is a real joy that their roles are more involved than other pantos where it can seem as though the children are only there to fill the stage and dance in the background.
A lot of effort has been put into on the set and stage which is clear to see. The hall is all tiered seating so there isn't a bad seat in the house and there is a lovely intimate feel to the theatre. That also mean if you're near the back you also have a good chance of catching a sweet which isn't the case in other theatres.
The songs are contemporary and local references are a genuine part of the script which makes it enjoyable. And as with any panto, audience participation is a must with enough of the classic "It's behind yous" and "Oh no it isnt's" to delight the young and old.
As Kevin Whibley from Captured Moment said in his review if your children are going with their school or playgroup you should book to go as a family as there really is something for everyone.
We've just booked to go back as a family and I've noticed some of the shows have already sold out with others having only limited availability. There's also a New Year's Eve performance with a pizza buffet and disco afterwards which is bound to sell out. So if you want to go on a specific date – get your seats booked now. To find out more click here.