Construction Hoardings – A Free Advertising Opportunity
18th March 2014
... Comments
---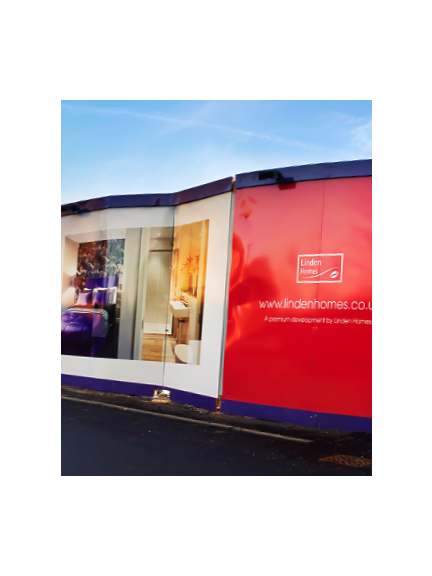 If you're a developer your construction site hoardings offer a huge space for creating maximum impact and grabbing attention. Don't settle for dreary plain hoardings – use them to promote your business!
Construction site hoardings are a requirement for buildings under development, to ensure site safety and security. Seeing as they have to be there why not use them to promote your business, build anticipation for the development, and create a great buzz on the run up to the completed project?
Site hoardings offer a huge "billboard" space ideal for eye-catching graphics and branded messages, which can be really effective for the launch of a new shop or retail space on the high street, or for a new housing development anywhere.
Companies pay hundreds of pounds per week to hire billboards from JC Decaux and the like (a 40' x 10' billboard in Aldershot or Farnborough would be £1300 per month!) - you're getting a similar amount of high-visibility space for free so why not use it?!
Full colour printed hoardings have many advantages over tatty plywood or hired fencing panels. Well-designed printed hoardings project a professional image for the development, plus there is plenty of space to present all the key features to potential clients in situ.
Reade Signs offer a bespoke design-to-installation service to help you create hoarding advertising that will get you noticed, using full-colour graphics printed onto top-quality Dibond materials which are fadeproof, weatherproof and vandal-resistant.
Artwork can be printed full-size to completely cover the hoardings, or in adhesive panels, or even on boards which can be mounted and removed (and reused on other projects). The Reade Signs team can design all the graphics or work with your existing designers to produce artwork which fits in with your brand and the image you want to present.
By outsourcing all of your building site hoardings to Reade Signs, you benefit from complete piece of mind and a quality finish every time.