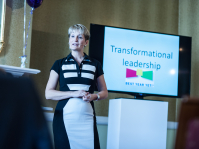 Leadership Booster Day
A great opportunity to spend a day of learning with Bespoke Training Eastbourne.
Spend a day enhancing your leadership skills, polish up on techniques to push your leadership up a notch. Focus on becoming an expert communicator and learn some helpful coaching techniques to support your team.
Do you have the leadership headache of helping people to improve their performance?
Are you looking to grow your business and want to inspire your team to come on the journey with you?
How long has it been since you spent time focusing on your own leadership skill? (High performers are always learning !)
What the day will cover:
Communicating as an expert
The power of feedback - how to do it properly
From operational to inspirational.
Introduction to coaching skills.
If you have any questions about this day please email: rachel@bespoketrainingeastbourne.com
*thebestof cannot be held responsible for any changes, amends or cancellations of an event