L & V Karaoke
Alexandra Arms
453 Seaside
BN22 7SA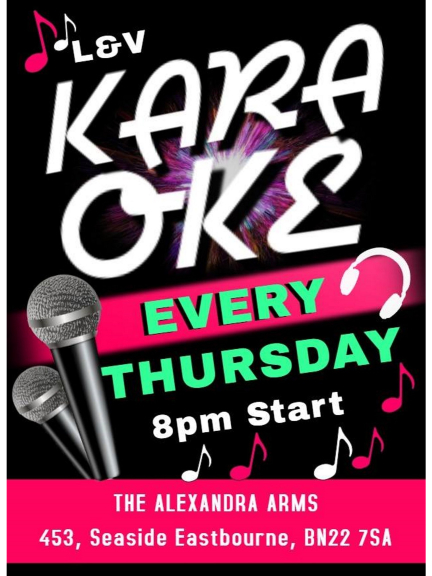 A night of Krazy Karaoke at the Alexandra Arms!
Come and join us every Thursday evening for lots of fun and games!! 
Thousands of songs to choose from including up to date chart tracks.... quality sound and lighting, with a few extras thrown in! 😁 
it's always a fun filled evening with some great singers and lots of dancing in between! So warm up your voices and come and join us.... 8.30pm till late!! 
Alexandra Arms, Seaside, Eastbourne 🎤🎤🎤
Future dates
Thursday 27th June 8:30pm until 11:59pm
Thursday 4th July 8:30pm until 11:59pm
Thursday 11th July 8:30pm until 11:59pm
Thursday 18th July 8:30pm until 11:59pm
Thursday 25th July 8:30pm until 11:59pm
Thursday 1st August 8:30pm until 11:59pm
Thursday 8th August 8:30pm until 11:59pm
Thursday 15th August 8:30pm until 11:59pm
Thursday 22nd August 8:30pm until 11:59pm
Thursday 29th August 8:30pm until 11:59pm
Thursday 5th September 8:30pm until 11:59pm
Thursday 12th September 8:30pm until 11:59pm
Thursday 19th September 8:30pm until 11:59pm
Thursday 26th September 8:30pm until 11:59pm
Thursday 3rd October 8:30pm until 11:59pm
Thursday 10th October 8:30pm until 11:59pm
Thursday 17th October 8:30pm until 11:59pm
Thursday 24th October 8:30pm until 11:59pm
Thursday 31st October 8:30pm until 11:59pm
Thursday 7th November 8:30pm until 11:59pm
Thursday 14th November 8:30pm until 11:59pm
Thursday 21st November 8:30pm until 11:59pm
Thursday 28th November 8:30pm until 11:59pm
Thursday 5th December 8:30pm until 11:59pm
Thursday 12th December 8:30pm until 11:59pm
Thursday 19th December 8:30pm until 11:59pm
Thursday 26th December 8:30pm until 11:59pm
Thursday 2nd January 8:30pm until 11:59pm
Thursday 9th January 8:30pm until 11:59pm
Thursday 16th January 8:30pm until 11:59pm
Thursday 23rd January 8:30pm until 11:59pm