BSL Sign Language Class - Beginners/Basic
East Sussex Hearing Resource Centre, 8 St Leonard's Road, Eastbourne
BN21 3UH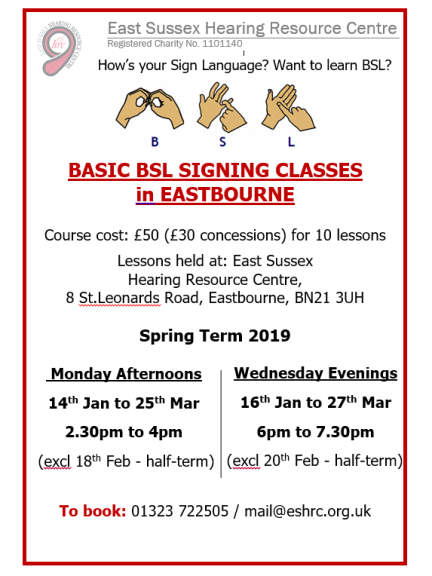 Would you like to learn BSL Sign Language in a fun and friendly class?
We have only a few remaining spaces for our BSL Beginners/Basic class starting on Monday 14th January - so don't delay!
These are relaxed, friendly classes with no exams; however the lessons are planned to help you learn not only BSL vocabulary, but also the structure and grammar of the BSL language, which is quite different from English.
Termly fees (for 10 lessons): £50 / £30 concessions
Future dates
Monday 28th January 2:30pm until 4:00pm
Monday 4th February 2:30pm until 4:00pm
Monday 11th February 2:30pm until 4:00pm
Monday 25th February 2:30pm until 4:00pm
Monday 4th March 2:30pm until 4:00pm
Monday 11th March 2:30pm until 4:00pm
Monday 18th March 2:30pm until 4:00pm
Monday 25th March 2:30pm until 4:00pm