COMMUNITIES BLOOM WITH HOMEBUILDER'S BACKING
Ledsham and Capenhurst have some blooming lovely planters thanks to Redrow's Ledsham Community Fund. Joan Powell, Tina Warmer, Lorraine  Buckley and Jo Pemberton pictured with Shanice Williams
The villages of Capenhurst and Ledsham are blooming, thanks in part to Redrow.
Since 2016 the homebuilder has shared more than £25,000 between good causes close to Ledsham Garden Village via voluntary community funds.
Capenhurst and Ledsham Parish Council asked the homebuilder for help brightening up the area.
Jo Pemberton, chair of Capenhurst and Ledsham Parish Council, said: "We're keen to improve the villages for the benefit of everyone who lives in the area and so Gary Wright applied to Redrow's Ledsham Community Fund for help. The planters Redrow provided have been a real benefit, brightening up the neighbourhood with splashes of colour. Hopefully the planters will play a factor in our first Britain in Bloom bid." 
More than 30 local projects have benefitted from Redrow's Ledsham Community Fund, which is helping ensure that as the neighbourhood grows it remains a great place to live.
Elaine Mounsey, area sales manager for Redrow Homes (NW), said: "The planter project is a prime example of the small ways we can help make a difference to the communities we're building in. They really do look beautiful at this time of year and are a credit to all who've helped tend to the flowers."
The community fund is in addition to more than £13 million Redrow is investing in the area linked to up to 2,000 new homes being built at Ledsham Garden Village.
Funding has been allocated towards a new primary school, off-site school provision, new and improved bus routes, better playing fields / play facilities, and improvements to local shops and health facilities. There will also be a total of 500 affordable homes built and 100 acres of open space provided.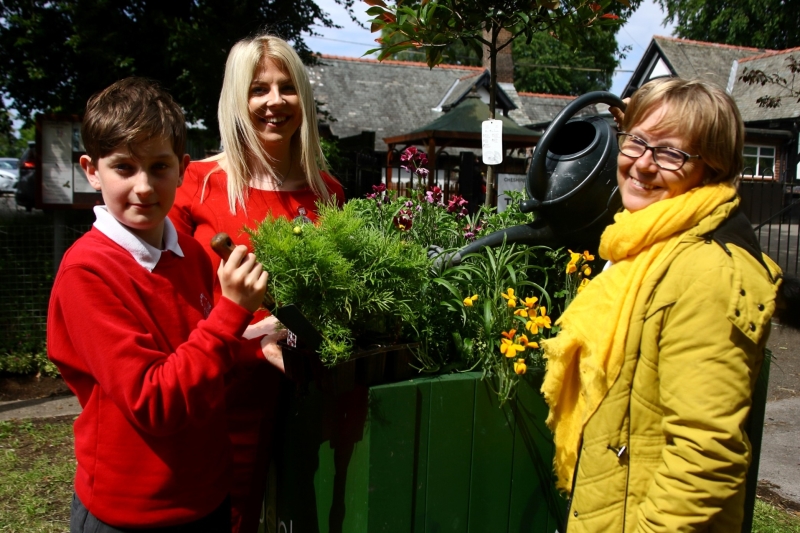 Redrow's Shanice Williams helps Ben Hardwick and Jo Pemberton tend to the planters
For more information about Ledsham Garden Village see www.redrow.co.uk/oaklandsledsham  or call 0151 515 6417.
---
Issued for & on behalf of Redrow Homes (NW) by Active PR