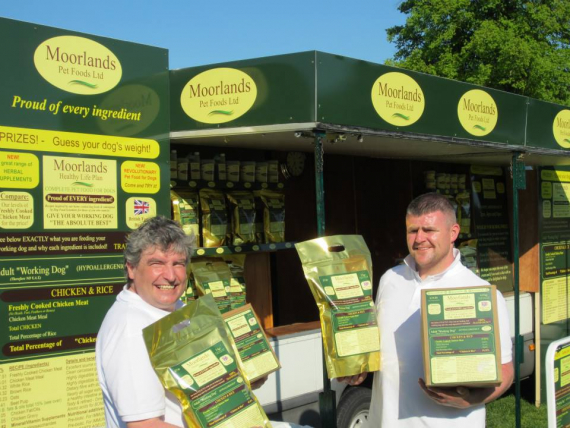 about us
Moorlands Pet Foods Ltd. are based in Cannock, Staffordshire and manufacture and distribute high quality pet foods including a dry dog food that has a 100% revealed ingredient list, is hypo-allergenic, has high meat content and is loved by dogs and owners alike.
Moorlands Pet Foods Ltd. is the creation of Phil Woodhouse, an independent pet shop owner, dog lover and family man. The brand was born out of Phil's desire to offer a dog food to owners with clarity of ingredients that would be of a superior quality, yet at a very competitive price.
Moorlands Pet Foods Ltd. dry dog food was launched in 2012 and has proved very popular with dog owners locally in Cannock, and across the UK. The Moorlands Pet Foods Ltd. boasts a number of unique benefits including,
100% complete dog food
Ideal for 'fussy' eater dogs
100% revealed recipe
Truly hypo-allergenic
No wheat / barley / derivatives / sugars / corn / maize
UK made
Suitable for working dogs and pet dogs
With no expensive marketing campaign or fancy gimmicks or packaging Moorlands Pet Foods Ltd. are able to offer a superior standard of food at very competitive prices. Moorlands Pet Foods Ltd. dry food is available in 2kg, 6kg, and 12kg bags which each represent great value for money.
Moorlands Pet Foods Ltd. is available from independent pet shops and pet supplies retailers across the UK, request it by name and if it is not available, call the local head office to arrange a delivery.
Delivery is available across the UK and internationally. Free delivery with 24kg orders. Cannock and Staffordshire residents can collect Moorlands Pet Foods Ltd. from independent pet supplies specialists Hawkes Green Pet Supplies.
Moorlands Pet Foods Ltd. is available to the public direct as well as trade sales to kennels and breeders who are providing very positive feedback about the quality of the food and it's high meat content.
Call Moorlands Pet Foods Ltd. on (01922) 405691 or mobile 07733773387 and get your dogs onto the highest quality dog food available, whilst protecting your wallet.
Please mention thebestof Cannock when contacting Moorlands Pet Foods Ltd.
Contact us

Moorlands Direct
Unit 2
Access Point
Willenhall Lane
Bloxwich

WS3 2XN

Email us now

Visit our website

find us here

find us on facebook

accreditations


Pet Industry Awards 2012 - Finalist