New Designs for Bounce Magazine
1st April 2014
... Comments
---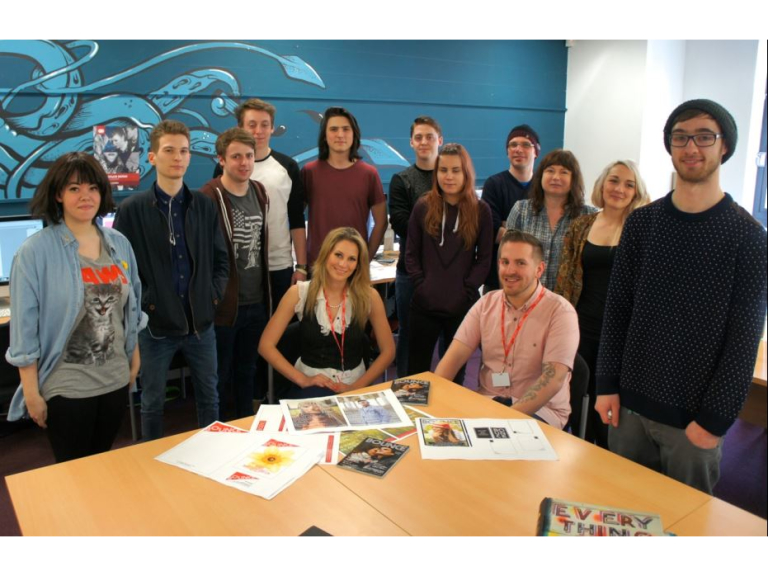 West Suffolk College students have been gaining a' real life'  work experience by taking part in a live brief set by local design agency Logic Design based in Bury St Edmunds.
Over the past few weeks the colleges graphic design undergraduates have been set the task to come up with new and original design concepts for the local Bury St Edmunds lifestyle publication Bounce Magazine.
Logic and Bounce are delighted to get involved with the course project. They tell us: 
'We understand the importance of the talent coming through into the future generation of business, so if we can help develop the students confidence it will help them once their course is finished,'  explained Finn Johnston of Logic Design.
'We are extremely proud of all of our students' achievements. They are to be commended for their sheer level of commitment, focus and creativity for the design work they have produced to date for Bounce Magazine and thank Rachel and Finn for their support,' says Sian Horn the course director.
This week at the end of the four-week project the students were invited to the Logic Design Studio to present their ideas to director of Bounce Magazine, Rachel Ducker. 'I was truly amazed by the creative talents of the students, they all had so many wonderful concepts, it feels like the ideal time to review the design of Bounce and I hope that we can integrate these ideas into the magazine reinforcing its connections to the local community,'  said Rachel.
At the end of the presentation Logic Design awarded a work placement to Matthew Reynolds.
His conscientious approach to this particular project impressed both Rachel and Finn, and his ideas will be integrated into the new look publication.
An important part of the BA (Hons) Graphic Communication course at University Campus Suffolk Bury St Edmunds is work-based learning, giving students an underpinning of professional practice from which to develop the required skills for the industry.