Watford Peace Memorial – a star is born!
27th June 2017
... Comments
---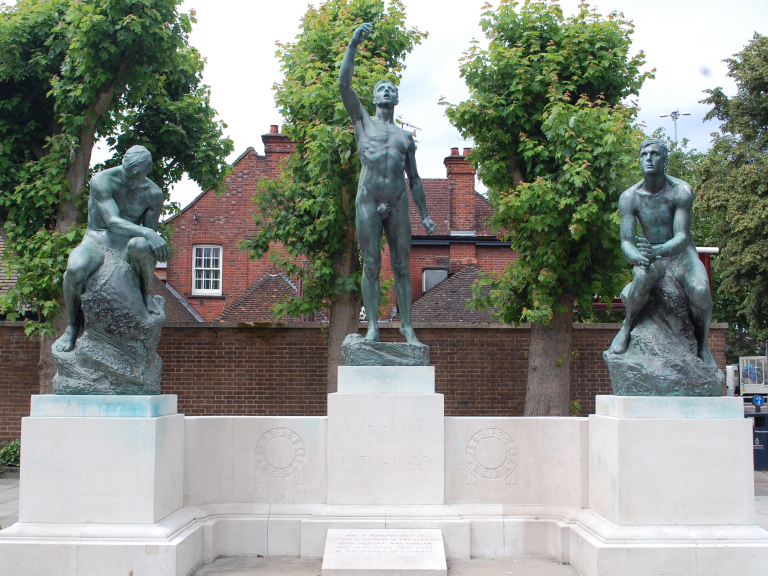 Watford Peace Memorial's heritage listing has been upgraded from Grade II to Grade II*, which means it is of greater significance nationally.

A recent reappraisal by Historic England of the memorial found that from an historic, sculptural and architectural point of view, the memorial is of more than 'special interest'. It was determined it should be regraded at Grade II*, citing rarity, as an example of a war memorial sculpted by a woman and as an example of the rare depiction of male nudes in war memorial sculpture.

Watford Peace Memorial was designed in 1928 by the prominent sculptor Mary Pownall Bromet, a former pupil of Auguste Rodin. The sculpture features three figures known as the Fallen, the Wounded and Victory. The Historic England report recommending the upgrade noted: 'The Watford Peace Memorial is a simple yet striking and unusual example. Its high quality bronze sculptures and unusual subject matter further increase its poignant impact.'

Elected Mayor of Watford, Dorothy Thornhill, said: We're pleased Historic England has recognised the significance of our peace memorial, and the new classification of Grade II* means the sculpture can be protected for future generations to appreciate."

The Watford Peace Memorial is located outside Watford Town Hall. Watford also has three Grade II* listed buildings: Little Cassiobury, Frogmore House and The Mrs Elizabeth Fuller Free School.

Grade II* listing may be granted to memorials with an above-average level of special interest: they may be highly unusual in form or symbolism, or of a high level of artistic accomplishment. According to the Historic England report, Watford Peace Memorial was granted Grade II* listing for:
Architectural interest: a simple portland stone low wall with three raised pedestals provides a suitably understated setting for three striking bronze figures by Mary Pownall Bromet
Sculptural interest: by the prominent female sculptor, Mary Pownall Bromet, who had a talent for emotionally vigorous sculpture. Her representations of the Fallen, the Wounded and Victory comprise an emotive trio largely modelled during the First World War
Rarity: as an example of a war memorial sculpted by a woman, and as an example of the rare depiction of male nudes in war memorial sculpture
Historic interest: as an eloquent witness to the tragic impact of world events on the local community the sacrifice it made in the conflicts of the 20th century.
The two seated figures were not initially produced for the memorial but the artist offered the plaster models they were cast from to the Peace Memorial Hospital and a public fund was raised to have them cast in bronze for the memorial.

The memorial was relocated outside Watford Town Hall in 1987.
About Sculptor Mary Pownall Bromet
Mary Pownall Bromet was a British sculptor. She was tutored by Auguste Rodin, exhibited at the Royal Academy and throughout Europe, and became an influential sculptor of the early 20th Century. She was a President of the Society of Women Artists and an Associate Member of the Royal Society of British Sculptors. She and her husband were Watford residents for nearly 30 years and Hertfordshire residents for longer. 
27.06.17 - Watford Borough Council News Release