Pupils raise £34,259.85 for local charities in this year's Dragon's Apprentice Challenge!
The challenge was simple: to turn £100 seed money into £1,000 for their matched charity BUT the nine teams that took part in this years Dragon's Apprentice Challenge didn't just raise £9,000 for local charities, they raised an astonishing £34,259.85.
Back in September, 83 students from local schools and the college volunteered their time to form nine teams to take part in Watford & Three Rivers Trust fourth annual Dragon's Apprentice Challenge programme.
Each team was matched with a mentor from a local business and charity and given £100, along with the challenge to come up with a business plan and ideas to turn this investment into £1,000 or more for their matched charity.
W3RT Dragon's Apprentice Challenge 2015/16 Teams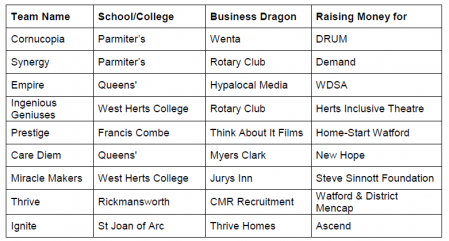 At the final celebration event held at Parmiters School on Monday 25 April everyone involved came together to celebrate all the successes, achievements and contributions to this year's challenge.
Team Cornucopia, nine students from Parmiters School received the award for most money raised and overall winning team.
Other awards were also made by the Super Dragon judging panel to recognise the learning experiences, skills and exceptional community work of individuals and teams.  
Winners of Awards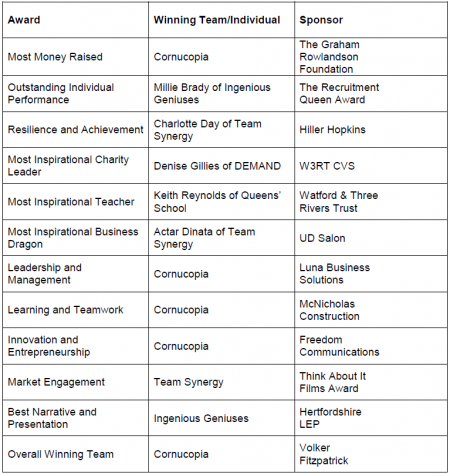 This year's total fundraising was almost £10,000 more than last year's challenge, and brings four-year total to an impressive £109,801.22.
I was at the event and know that I wasn't alone in feeling inspired by the team work and commitment. Dragon's Apprentice Challenge is not just about the money and winning an award, so many people involved in the Challenge put their heart and soul into supporting and promoting their charity, there were lots of journeys - successes, struggles, lessons learned - as there is for anyone in life and business.
It just proves that despite all the bad press young people receive, there is a future generation of hardworking, talented, caring and committed people and ones that I have no doubts have a bright and successful future ahead of them.
If you are a teacher or student at a local school, own or work for a company in or around Watford and would like more information on Dragon's Apprentice Challenge 16/17, please email dragons@w3rt.org