Looking for somewhere to eat in Watford.
9th August 2015
... Comments
---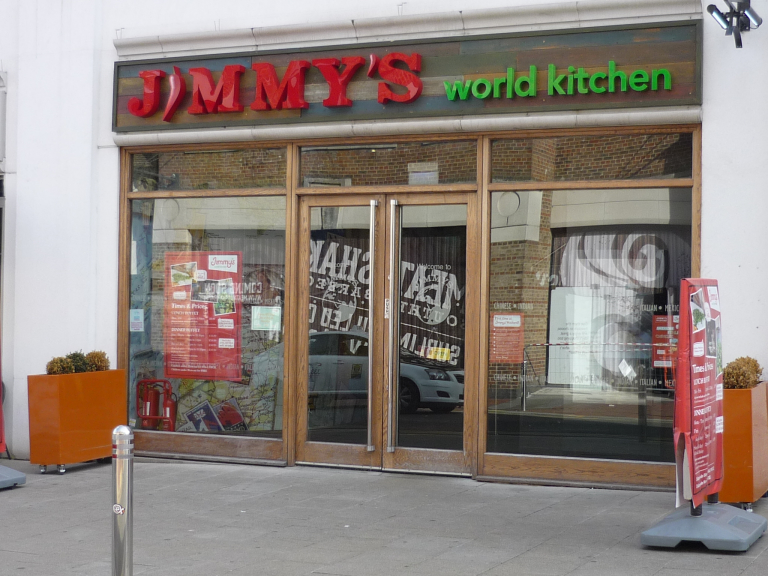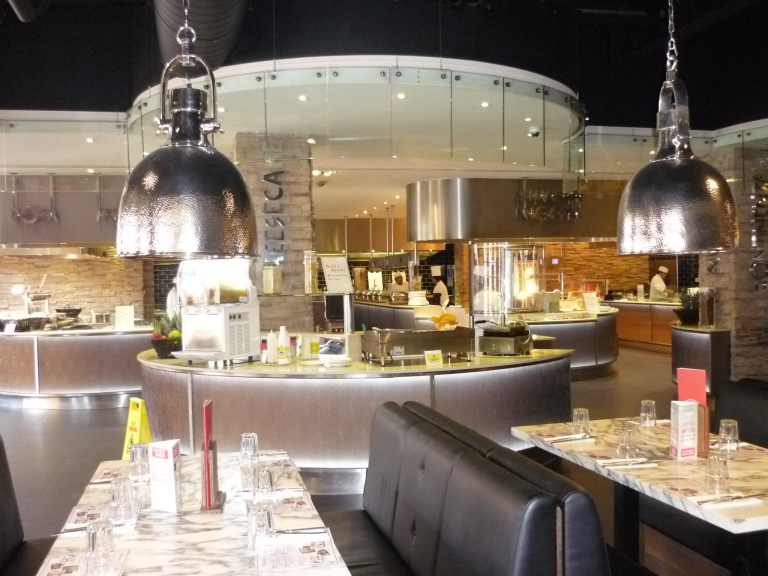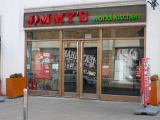 Last week we visited Jimmy's World Kitchen on the High Street. One of several restaurants that can now be found in the revitalised Met Quarter. What did we think?
We went early on a Thursday evening and received a warm welcome from the receptionist on the ground floor, who ushered us up stairs to the restaurant ( a lift is also available). It was quiet when we arrived and that gave us a chance to look around and take in the décor, which is quite impressive.
Jimmy's the deal is you pay once on arrival. It's £16.99 per head in the evening, half price for children under 11, (under 4s free) and the price includes unlimited free soft drinks. If you fancy something a little stronger with your meal there were a number of special offers on a range of beers and on the evening we went they had a 25% off on Champagne or sparkling wine. When you are ready you can choose what you want and how much you want from a wide array of dishes from all around the world – hence the whacky world map paper on some of the walls, I guess. The food is attractively arranged on islands that just seem to curve naturally and encourage you to go with the flow and meander around as you choose your meal.
Each of the self- service islands are manned by chefs who are preparing the food freshly in front of you and the selection available includes Tandoori Indian, Stir Fry, Chinese Noodle, Piri Chicken, Tex- Mex and Italian. So there really is something for everybody.
I started with Sushi and couscous, while my colleague Abby had a salad. Both were light, fresh and tasty. For mains I went for the Chinese and was pleased to find the spicy prawns delivered a good kick while the Singapore Noodles, although good could have been a bit hotter for my taste. Abby went to a different continent and chose a selection of Indian dishes, including chicken with aubergine and sag aloo. All of which was good.
By the time it came to dessert we were both already satisfied but we were tempted by the selection of mini cakes, fresh fruit salads and some rather exotic offerings from the Orient. During the hour or two we were there the place really began to fill up with a broad cross section of people of all ages and ethnicities. Families with children are made very welcome and there really is something for everybody in this first floor restaurant overlooking the High Street in Watford.
We thought Jimmy's provided good value for money – the atmosphere is vibrant and it's welcoming. The service proposition is unstuffy and straightforward; basically help yourself to what you fancy. All the food appears to be freshly prepared and we thought Jimmy's World Kitchen would be a good venue for a night out with friends or for a meal for all the family.